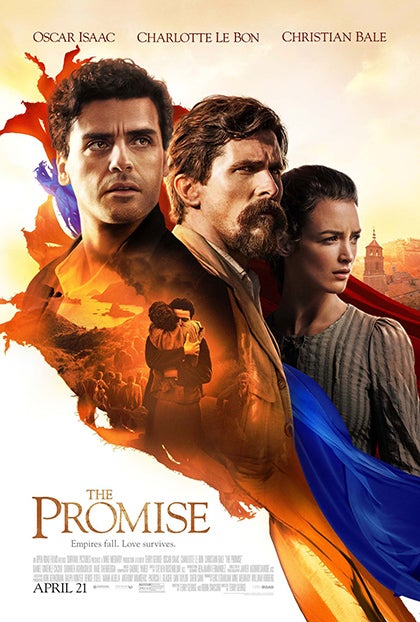 The commitment to launch the Promise Institute for Human Rights at UCLA School of Law came from film producers Dr. Eric Esrailian and Anthony Mandekic, and was derived from the proceeds of the film The Promise, set during the Armenian genocide, which began in 1915 when more than 1.5 million people perished in an atrocity driven by ethnic and religious intolerance.
"The Promise Institute is so named because UCLA and the UCLA School of Law are making the promise to refugees and people suffering from injustice that we will create the tools and train the people to address these crises," said Dr. Esrailian. "In this project, we are carrying on the work of Mr. Kerkorian, creating positive social impact, and informing people around the world about atrocities and our shared responsibility to recognize and prevent them."
The film was directed by Terry George (director and co-writer of Hotel Rwanda) and stars Oscar Isaac, Charlotte Le Bon, Christian Bale, Shohreh Aghdashloo and an international cast. Esrailian produced The Promise with Phoenix Pictures chairman and fellow UCLA alumnus Mike Medavoy and veteran film producer William Horberg.
Esrailian and Anthony Mandekic, president and CEO of Tracinda Corporation, are also the co-managers of Survival Pictures, which was founded by the late Los Angeles businessman and legendary philanthropist Kirk Kerkorian. Survival Pictures was established to tell this story of perseverance and human endurance, and it has begun a campaign to teach the public about the genocides and mass atrocities of the 20th and 21st centuries. Kerkorian, a Southern California businessman and philanthropist, founded the Lincy Foundation in 1989 and the Dream Fund at UCLA in 2011 to support education, medical research, and other projects to benefit people around the world.
A sister documentary to The Promise was produced alongside the film. Directed by Joe Berlinger, Intent to Destroy captures the cinematic and political challenges of producing a historically meaningful, big-budget feature film in an environment rife with political suppression and threats of retaliation. Learn about the making of the documentary at https://intenttodestroy.com/
Get a behind-the-scenes look at The Promise and learn more about the Armenian Genocide (including educational resources) at https://thepromisetoact.org/. 
Masthead photo from The Promise (2017, Survival Pictures)