The 46th Annual UCLA Entertainment Symposium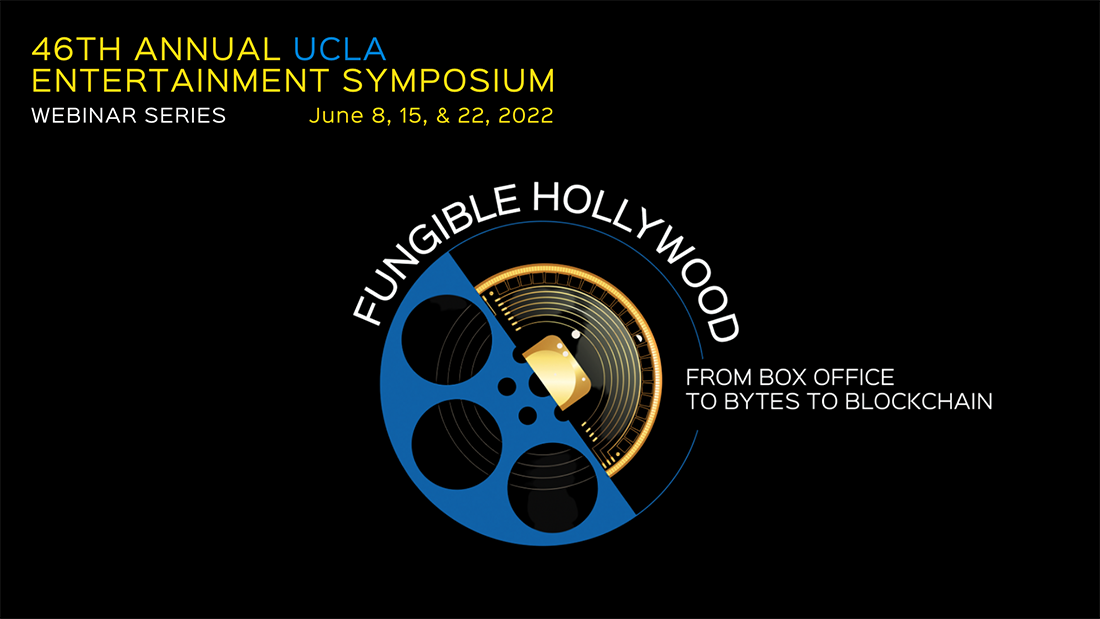 ---
Fungible Hollywood: From Box Office to Bytes to Blockchain
June 8 | June 15 | June 22
Keynote Conversation with Mary Parent, Chairman of Worldwide Production, Legendary Entertainment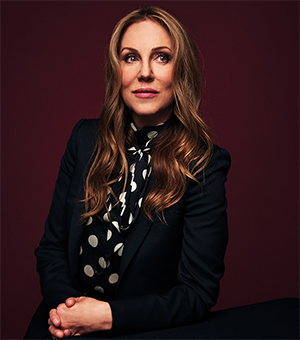 The entertainment industry has not yet had time to settle into a durable new equilibrium for the digital/streaming age, and already, a raft of new technologies are poised to further upend how business is done in Hollywood. There is little question that these advancements will have a dramatic impact on our industry, but the scale and quality of that impact are being determined day-by-day in the marketplace. Does artificial intelligence offer the promise of unprecedented sophistication in business and creative decision making, or a perilous minefield of ethical, legal, and humanist concerns? Are non-fungible tokens the future of financing and monetizing content, or a fad that will fade when the market runs out of "greater fools?" These developments and others like them all have broad social implications beyond the world of entertainment. The 2022 Symposium will examine the ongoing collision among the technologies and business models of yesterday, today, and tomorrow, and will consider: will the entertainment industry find a way to coopt and transform these advancements for its own benefit, or will it instead find itself coopted and transformed by the evolving world around it?
2022 Symposium Program

June 8, 2022

5:00 - 5:05 pm (PDT)
Dean's Remarks

Presenter:
Dean Jennifer L. Mnookin, Ralph and Shirley Shapiro Professor of Law, and Faculty Co-Director, PULSE @ UCLA Law (Program on Understanding Law, Science & Evidence), UCLA School of Law

---

5:05 - 5:50 pm (PDT)
Streaming in a Time of War, Pestilence & Inflation

Tom Wolzien opens the annual industry review with his usual business and legal status report, including the financials for advertising, video delivery, broadband, mobile, box office, and streaming providers during Covid's second year.  Looking at the economy, Wolzien will explore the impact of high inflation on advertising and the historical box office.  Touching on the Netflix crash and the need for ad-based VOD (AVOD) as a second revenue stream for subscription (SVOD) players, his report will compare "watchability" of some AVOD programs to those on ad-based linear services.  Wolzien will discuss the merits and drawbacks of various business and legal strategies for streaming companies and will then pose the question whether the marketing by all SVOD players may be missing a key component, as he introduces the idea of Box Office Equivalency through an analysis of the 136 top streaming movies reported by Netflix last year. 

Presenter:
Tom Wolzien, Chairman, Wolzien LLC and The Video Call Center, LLC

---

6:00 - 7:00 pm (PDT)
Pearls and Pitfalls of NFTs in the Entertainment Industry

With their emergence as a multi-billion-dollar business, NFTs were bound to collide with the entertainment industry and bring about new opportunities along with associated perils. A conversation with a leading NFT influencer followed by a panel discussion with some of the legal and business minds immersed in NFTs will explore the vast opportunities NFTs bring to the entertainment industry and the costly mistakes that await those lacking careful planning and knowledgeable advisors. The panel will look at how NFTs are created, marketed, and sold, as well as trends in the market and on the NFT exchanges.

Moderator for Part 1 and Part 2:
Tom K. Ara, Co-Lead, Sports, Media & Entertainment Group, DLA Piper

Part 1
Q&A Speaker:
Gary Vaynerchuk, Chairman, VaynerX and Chief Executive Officer, VaynerMedia

Part 2
Panelists:
Joe Conyers III, Executive Vice President, Global Head of NFT, Crypto.com
Hannah E. Taylor, Partner, Frankfurt Kurnit Klein & Selz PC

UCLA School of Law is a State Bar of California approved MCLE provider. By attending this event, you may earn Minimum Continuing Legal Education credit in the amount of up to 1.75 hours of general credit.

---

 

June 15, 2022

5:00 - 5:50 pm (PDT)
The Return of Audio: How Podcasts Became the New Radio Star

Since the word was first coined in 2004, podcasts have emerged as arguably the most creatively exciting and widely consumed form of entertainment media since video games. By 2021, 80 million Americans reported consuming podcasts on at least a weekly basis. They have provided a much-needed outlet for deeply researched and reported journalism and revived the once-dead medium of the audio drama. More recently, podcasts have also become the subject of intense competitive bidding for valued adaptation rights, serving as the foundations of critically and commercially successful series such as Dirty John, Dr. Death, and The Dropout. This panel of distinguished operators, strategists, and dealmakers will explore the impact that film and television opportunities are having on podcasting, as well as the impact that podcasting is having on film and television, the dealmaking climate in podcast production and distribution as well as in film/television development and production, and the role that this fast-growing segment of the industry will play in the media landscape for years to come.

Moderator:
Dollie S. Bishop, President of Production and Creative Development, The Black Effect Podcast Network

Panelists:
Jean Chi, Global Head of Business Affairs - Studio Content, Spotify
Jen Sargent, Chief Executive Officer, Wondery
Pat Shah, Head of Content Acquisition and Development, Audible

---

6:00 - 7:00 pm (PDT)
John H. Mitchell Panel on Ethics and Entertainment
AI, Avatars and Deep Fakes: Ethical and Legal Issues for the Entertainment Industry

This panel will explore the ethical and legal dimensions of the growing impact of Artificial Intelligence in the development of entertainment content. Among many questions, this panel will explore: Under what circumstances is it appropriate to use AI to create content that impersonates real people and events? What limitation, if any, does current law place on this AI-generated content? Should new law(s) be developed to address AI-generated content? And, most immediately, what do entertainment lawyers and executives need to know about AI to satisfy competency obligations? The Panel will discuss these issues as well as practice pitfalls and contract considerations entertainment lawyers and executives need to consider as the technology likely outpaces legal developments.

Moderator:
Dale Cohen, Director, UCLA Documentary Film Legal Clinic and Special Counsel, FRONTLINE

Panelists:
Eriq Gardner, Founding Partner, Puck News
Jane Han, Global Creative Lead, ex-Meta
Amy R. Lucas, Partner, O'Melveny & Myers LLP
Danielle S. Van Lier, Assistant General Counsel, Intellectual Property and Contracts, SAG-AFTRA

UCLA School of Law is a State Bar of California approved MCLE provider. By attending this event, you may earn Minimum Continuing Legal Education credit in the amount of up to 0.75 hour of general credit and 1 hour of legal ethics.

---

 

June 22, 2022

5:00 - 6:00 pm (PDT)
Talent 360: The Rise of the Multimedia Star-Entrepreneur

Hollywood has long been familiar with the concept of a hyphenate–talented individuals who work in multiple creative capacities, such as writer/directors and actor/producers. But as the industry has evolved over the last decade, so too have the ambitions of and opportunities for premiere talent. The stars of today move and work freely across once-distinct media—they take on roles as producers and studio executives beyond solely servicing their own personal projects, and they cultivate lucrative opportunities outside of their 'core' entertainment careers. This panel of distinguished representatives and executives will explore the promise and perils facing talent in this vibrant marketplace, the key business and legal issues affecting the interests of major talent, and the roles their representatives and business partners play in facilitating and maximizing the ambitions of the stars of today who strive to be the moguls of tomorrow.

Moderator:
Ken Basin, Global Head of Business Operations, Riot Entertainment

Panelists:
Camrin Agin, Senior Vice President, Business & Legal Affairs, New Line Cinema
Matthew M. Johnson, Partner, Johnson Shapiro Slewett & Kole LLP
Theresa Kang-Lowe, Chief Executive Officer, Blue Marble Pictures and Blue Marble Management

---

6:10 - 7:10 pm (PDT)
Keynote Conversation

Mary Parent, Chairman of Worldwide Production, Legendary Entertainment
Ken Ziffren, Partner, Ziffren Brittenham LLP

UCLA School of Law is a State Bar of California approved MCLE provider. By attending this event, you may earn Minimum Continuing Legal Education credit in the amount of up to 1 hour of general credit.

---

 

Continuing Education for Accountants

The provider of this program follows the CE guidelines specified in the California Board of Accountancy Regulations.