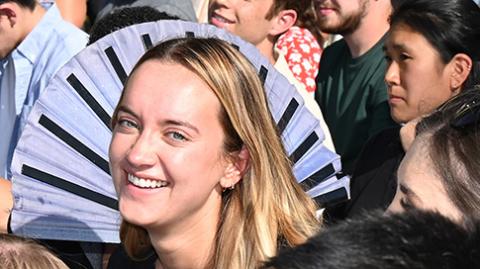 As the 2021-22 school year got underway, UCLA School of Law welcomed a class of new students who are among the most accomplished future lawyers ever to join the law school.
Representing a collective wealth of experience and diverse backgrounds, the incoming class includes 366 students who are pursuing a J.D. degree, 233 lawyers who are earning a Master of Laws (LL.M.) degree, and 53 professionals who are working toward a Master of Legal Studies (M.L.S.) degree. In addition, UCLA Law welcomed 27 transfer students who are starting their 2L years and six visiting students who are completing their 3L years. One lawyer who is pursuing a Doctor of Juridical Science (S.J.D.) degree also joined the law school.
The new school year also brought a return to the classroom for most members of the UCLA Law community, after more than a year of almost exclusively remote education and events.
To mark the start of the new school year, the law school hosted its annual convocation ceremony, outdoors on UCLA's Dickson Court and under strict health protocols, on Aug. 20. Dean Jennifer L. Mnookin, Student Bar Association President Jessie Chen '22, and distinguished alumna Rasha Gerges Shields '01 welcomed students with speeches that stressed the importance of community, connection, and being open to the endless possibilities that law school provides in forging a legal career.
"This is an incredibly exciting time to be studying the law. … You are part of a community at UCLA Law that's more diverse than ever," Chen said. "Each individual walking these halls is invested in ensuring that everyone else can make the most of the opportunities in front of them."
Gerges Shields, a partner at Jones Day, administered the Oath of Professionalism to the students. "Remember that relationships matter. You cannot do it alone, so take time to develop those relationships," she said. "Being kind and reasonable is not a sign of weakness. These are hallmarks of confident and effective lawyering."
Read more about our exceptional new students.