The 2021 virtual commencement ceremony will stream online on Friday, May 21, at 3 p.m. (PT).
U.S. Representative Ted Lieu to deliver keynote address at commencement.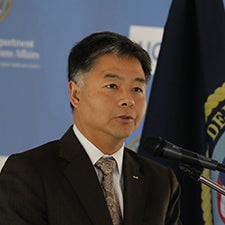 Rep. Lieu is the congressman who represents UCLA and surrounding neighborhoods in Washington, and he has visited UCLA and the law school several times since his election to the U.S. House of Representatives in 2014. He is admired as one of the staunchest advocates for civil rights, the environment, and issues surrounding technology, among many other things.
---
Other speakers during the online commencement program will include UCLA Law Dean Jennifer L. Mnookin, Professor of the Year honoree Jennifer Chacón, J.D. graduate Jazmine Buckley, LL.M. graduate Hala Khalil, and M.L.S. graduate Miranda Wilcox. Graduating J.D. student Ryann Garcia will offer the land acknowledgement. UCLA Law's musical group LawCappella is slated to sing the national anthem.