View the of the law school's virtual commencement ceremony, in-person graduation recognition, and tribute videos.
---
UCLA Law Celebrates 70th Commencement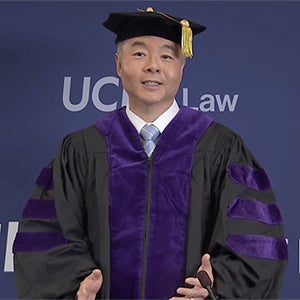 UCLA School of Law celebrated the Class of 2021 in a graduation ceremony that streamed live on the internet on May 21. The event featured live remarks, delivered from the law school, by keynote speaker U.S. Rep. Ted Lieu (D-California) and UCLA Law Dean Jennifer Mnookin. Additional speakers included Professor of the Year honoree Jennifer Chacón, J.D. graduate Jazmine Buckley, LL.M. graduate Hala Khalil, M.L.S. graduate Miranda Wilcox. Graduating J.D. student Ryann Garcia offered the land acknowledgement and UCLA Law's musical group LawCappella sang the national anthem. Graduating students were also treated to recorded messages from faculty members and special guests, including UCLA and NBA legend Bill Walton, as well as law school alumni Judge Paul Watford '94 of the U.S. Court of Appeals for the Ninth Circuit and U.S. Sen. Kirsten Gillibrand '91 (D-New York).