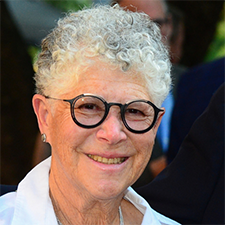 Donor: Rabbi Barbara Zacky
Member, IKAR Advisory Board
Co-Chair, Williams Institute Founders Council
Member, Equality California Institute Board of Directors
Fund: Rabbi Barbara Zacky Beyond Roe Strategic Planning Operating Fund
Purpose: Strategic Planning for a Post-Roe World
In June 2022, Rabbi Barbara Zacky gave a leadership gift to CRHLP for a series of strategic convenings that will lay the groundwork for new legal theories, research, and approaches to reproductive justice after the fall of Roe v. Wade. We asked her why she gives and what this gift to CRHLP means to her.
What led you to make this generous gift to CRHLP?
The bottom line is that we cannot let the government control our bodies. We have to fight. The Supreme Court's decision will impact all of us, but in particular women, LGBTQ people, people of color, and low-income women. I know CRHLP has the ability to work collaboratively with legal groups and those most impacted by the Supreme Court's decision to generate new legal theories and research that will move us forward from this horrible decision.
What guides you in your philanthropy?
I have always fought for justice. It is part of my core being. I am a woman, I am Jewish, and I came out in 1970 as a lesbian. These parts of me inform my philanthropy. In Judaism, we believe that our bodies are sacred and that we have to take care of our own bodies. These are our bodies, our lives, they are not the governments to control. A synagogue in Florida is suing the state for its abortion restrictions because it is against Jewish law to take away a person's decisions about their own bodies. We cannot let our government make our personal decisions.
What advice can you offer other donors?
This is the time to act and to give. The attacks on our rights have never been greater so our response must also be greater than ever before. I am driven to give for the future. In one of my favorite Jewish stories, Honi Hame'agel was walking along the road when he saw an old man planting a carob tree. Honi said to him, "This tree, after how many years will it bear fruit?" "It will not produce fruit until 70 years have passed," responded the old man. Honi said, "Are you certain that you will live another 70 years? How do you expect to benefit from this tree?" The man replied, "I found a fruitful world because others had planted it. Just as my ancestors planted for me, I, too, am planting for my descendants." We need to do this not only for ourselves, but to make sure that future generations do not have to battle the same issues that we have been fighting for 50+ years.
To make a leadership gift to CRHLP, contact Barbara Jacobs, jacobs@law.ucla.edu or give directly here.