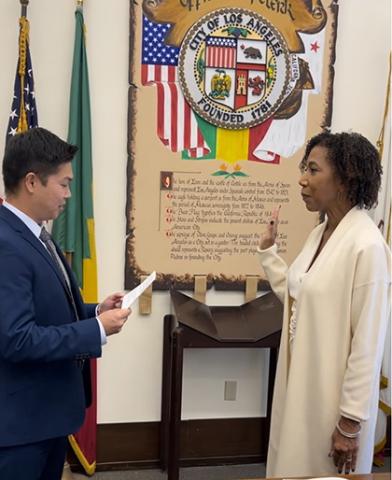 This October, Brenda Suttonwills '92 was sworn in as the newest member of the City of Los Angeles Employee Relations Board (ERB), which oversees "the administration of employer-employee relations in city government." She was appointed by Mayor Karen Bass and confirmed to the board by a 14–0 vote of the city council.
"I am honored and humbled to have been appointed by Mayor Bass to serve on the City of Los Angeles Employee Relations Board, and I am grateful for the L.A. City Council's confidence in me to foster equitable relationships between the city and its employees," said Suttonwills. "I am looking forward to working alongside my fellow board members and the ERB staff."
The board's declared mission is to administer "the City's Employee Relations Ordinance [by] determining employee representation units, arranging for elections in such units, determining the validity of claims of unfair practices filed against management and employee organizations, acting on requests for mediation, fact finding and arbitration to resolve bargaining impasses and grievances, and assisting employees to obtain access to their personnel file."
Five part-time members serve on the board, each for a five-year term.  All are required to "have broad experience in the field of employee relations and possess the impartiality necessary to protect the public interest, including the interests of the city and its employees."
Suttonwills, an authority on labor and employment law, is the assistant dean for diversity, equity and inclusion initiatives at UCLA Law. She also serves as labor studies faculty within UCLA's Institute for Research on Labor and Employment.
She formerly served as UCLA Law's director of learning environment and academic affairs and as assistant director of public interest counseling. Before she returned to UCLA Law, she served as staff counsel with the California Teachers Association; practiced labor and employment law at Schwartz, Steinsapir, Dohrmann & Sommers; and worked as a civil rights fellow at Litt & Márquez. She was the 2011–12 chair of the Los Angeles County Bar Association's labor and employment section and chair of the Los Angeles Hotel Diversity Task Force, where she coordinated the implementation of contract diversity language. Suttonwills serves as a co-chair of the American Bar Association Labor and Employment Section's Diversity, Equity and Inclusion in the Legal Profession committee. She has received several awards for excellence and impact in mentoring students and professionals.