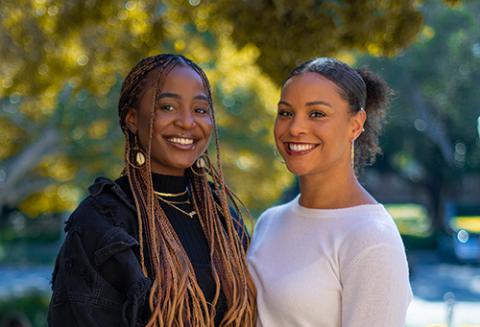 It's only February, but 2Ls Sydney Gaskins and Rochelle Mulondo have their summer career plans settled. Gaskins will return to Morrison Foerster, an international law firm, as a diversity scholar. She is a powerhouse on UCLA's top-ranked trial advocacy team, having won her past three competitions. Mulondo, will join the seasoned lawyers at Sidley Austin in the tech transactions group as a diversity scholar. Specializing in technology law, she's already interned at Apple.
In addition to their scholarly work, the duo lead UCLA School of Law's Black Law Students Association, or BLSA, as co-chairs. The longstanding organization focuses on the recruitment and retention of Black students in the law school.
Here, we chat with Gaskins and Mulondo about BLSA, Black History Month and their favorite moments at UCLA Law.
Why did you choose UCLA Law?
Gaskins: UCLA Law has the number-one ranked trial team in the country. So, I was looking at it for a very long time. I did mock trial in college, and I thought UCLA was the best place to pursue trial advocacy.
Mulondo: I had an interest in technology, and Silicon Valley is the hub of all that. Before I came here, I actually manifested working for Apple. Being from Northern California, I wanted to be in the sunshine. It's not a bad deal being 10 minutes from the beach and everything. So, I liked UCLA for its location, but also for the opportunities I would get when I came here.
Tell me about BLSA.
Mulondo: BLSA is one of the oldest law school organizations on campus. It's a space where people can find community and academic support and build friendships. It's scary coming to law school – I was scared when I first got here because you hear horror stories about how competitive it is and how there is a lack of diversity. I found a support system in BLSA. I was a 1L rep before I was a co-chair and I remember going to the general body meetings and having a mentor through the organization. I was able to bounce questions and talk about what I was anxious about and really just find friends. I think that was a big part of me being able to get through my first year and get through OCI (on campus interviewing). I had people who genuinely cared about me and had been through what I had been through.
Going through law school as a Black woman – I'm a very small minority – I experience things other people don't experience. Having the community – to reach out to people who are going through the same things – it makes you feel like, "I can do this." That is the biggest thing about BLSA and the reason I wanted to be co-chair is to continue to cultivate that community and to make sure that other 1Ls and other people coming in felt seen and heard and felt like they were welcome.
What have been some of your favorite moments at UCLA Law?
Mulondo: Through BLSA, I found community. Sydney is one of my really good friends and we're co-chairs now, and we met in our section last year. A lot of other people in BLSA and on the board are all really good friends outside of everything. All those moments with my friends – from brunch at the end of finals, to beach days, the barrister's ball – made 1L not as terrible as it is.
Gaskins: BLSA is totally about the people and the friends that you make. We went to Mexico for Spring Break with a bunch of BLSA people.
Tell me about any classes you've taken that have stood out.
Mulondo: I'm currently taking Street Law – it's an experiential course where I'll get to go into the community and teach high schoolers about law. I haven't started teaching yet, but I'm super excited to get out there – I'm very much an organizer at heart and I love to be involved in my community.
Gaskins: Last semester, I did an experiential clinic called Trial Advocacy, and I thought it was a really great experience because it was a very small class size, only 12 students, and we each got individual attention every single class. The professor was Justin Bernstein, and he really shows a dedication to his students and to their improvement in the courtroom. I really love that it was a contrast to what you're used to being in a classroom with over a 100 people, where I don't know if any of my professors even knew my name. So, I thought that was a highlight of my experience here.
What is your relationship to Black History month?
Mulondo: I think I have a special relationship to Black History Month because I'm Ugandan American – my parents are Ugandan, I grew up there, so I'm first-generation American. So, I love learning about Black culture. What I love about it is you're able to kind of highlight the whole diaspora of Black people; being Black is different in every country and every continent. I think that's what's beautiful about being Black – you don't get one flavor, you get all flavors and different cultures, languages and religions. It's a nice time for all of us to celebrate our differences and highlight the diversity within the Black diaspora.
I think this Black History Month is hard for a lot of the diaspora because last month there was another police brutality incident, and I think a lot of people are going into it with a heavy heart because it's hard to celebrate when there is continued strife in your community. But I think a part of BLSA is providing that community and supporting our members as they're navigating those feelings and trying to still celebrate the beauty and the power that there is with being a Black person.
Gaskins: I'm excited to celebrate Black History Month with BLSA and the community that we have in BLSA. We have a whole month of February social programming, led by Skyla, our social chair, that I'm super excited about. We are even partnering with other Black law school student associations. We're going to do a bar review together, we're going to have a game night together and I think it's just a really incredible opportunity to foster that community and be together, and also, you know, be celebrated by other groups of people and get a little bit of special treatment.
Mulondo: We're the celebrities this month!
[Laughter]
Gaskins: That's what they're saying.
What would you say to BIPOC who are thinking about law school or about UCLA Law in particular?
Gaskins: I personally don't think there's a better place to go to law school than UCLA Law, so definitely apply, and then after you apply, believe in yourself that you can get in. Be true to yourself in your application - don't try to be anybody else - and don't let people tell you that something's going to hold you back, whether it's an LSAT score or GPA. Just put yourself out there and I think that's what UCLA Law looks for -- genuine, good people who will succeed here, and if you believe that that's who you are, you got this, and we'd love to see you when you get here
---
Get involved with BLSA: