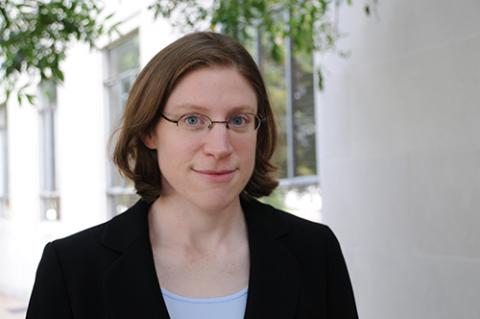 Cary Franklin has joined UCLA School of Law as the McDonald/Wright Chair of Law and Faculty Director of the Williams Institute. She will be teaching two courses this fall, Reproductive Rights and Justice and Law, Gender, and Sexuality.
Franklin, a leading constitutional law scholar, is an expert on civil rights and contemporary legal protections in the contexts of sex, sexual orientation, gender identity, and race. Her 2012 Harvard Law Review article, "Inventing the 'Traditional Concept' of Sex Discrimination," was cited by the Supreme Court in last year's Bostock decision, which held that Title VII of the 1964 Civil Rights Act protects gay and transgender people.
She joins UCLA Law after a decade at the University of Texas School of Law, where she was the W.H. Francis, Jr. Professor of Law. She also spent a year as the Florence Rogatz Visiting Professor of Law at Yale Law School.
Franklin's scholarship has been widely published. Her work has appeared in the Harvard Law Review, Yale Law Journal, Michigan Law Review, Virginia Law Review, and Supreme Court Review. She was awarded the Kathryn T. Preyer Prize by the American Society for Legal History for 2010's "The Anti-Stereotyping Principle in Constitutional Sex Discrimination Law," in the NYU Law Review.
Her newest article, "Living Textualism," an analysis of the Bostock decision, will be published in the Supreme Court Review later this year.
Franklin is a summa cum laude graduate of Yale University, from which she received a B.A. in English and history. She has a D.Phil. in English from the University of Oxford, where she was a Rhodes Scholar. And she earned her J.D. from Yale Law School, where she served as an articles editor on the Yale Law Journal. She clerked for Sonia Sotomayor, then of the United States Court of Appeals for the Second Circuit, and was a junior fellow at the Harvard Society of Fellows and a Ribicoff Fellow at Yale Law School.