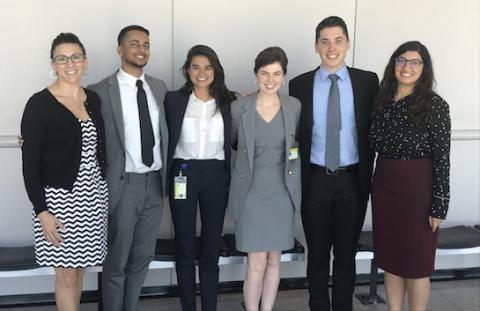 Members of three UCLA School of Law clinics are part of a coalition including people who are incarcerated in Los Angeles County jails, lawyers and activists that has sued the county and county sheriff's department seeking the release of medically vulnerable people and the implementation of heightened health and safety standards in jails during the coronavirus pandemic.
Nine incarcerated individuals and the organizations Dignity & Power Now and the Youth Justice Coalition filed the April 30 class action in state court to force L.A. jails to "implement constitutionally mandated procedures to protect people who are incarcerated from contracting COVID-19 in custody" and to release people who are at high risk of serious illness or death due to the virus. The lawsuit follows a demand letter sent by Justice-LA COVID-19 Response, which comprises more than 40 justice-reform organizations.
Members of UCLA Law's Prisoners' Rights Clinic, Human Rights Litigation Clinic and Bail Practicum, led by faculty members Aaron Littman, Catherine Sweetser and Alicia Virani '11, are among an array of attorneys representing the plaintiffs. Students Ary Hansen '21, Becca Kutlow '20 and Andy Philipson '21 conducted legal research and helped draft court documents. The matter is just one of several related cases and initiatives where UCLA Law is playing a key role.
The lawsuit is part of a nationwide effort to sound the alarm that COVID-19 poses an extreme threat to incarcerated people because they are often held in unsanitary and cramped conditions where best practices like hand washing and physical distancing are impossible. As the home of the world's largest jail system, coalition members say, L.A. County is of particular concern.
"Through our investigation, we uncovered harrowing stories about the Los Angeles County Sheriff's Department's complete disregard for the health and wellness of people incarcerated in jails, knowing full well the dangers that this virus poses," says Virani, who is the Gilbert Foundation Associate Director of UCLA Law's Criminal Justice Program. "During this time of crisis, UCLA Law clinics have played an important role in helping teach law students how to respond urgently and effectively, even when the work is being done remotely. In clinics, students learn to step into the role of compassionate and dedicated legal advocates who fight for what is right, and that is what we were able to do in this case."