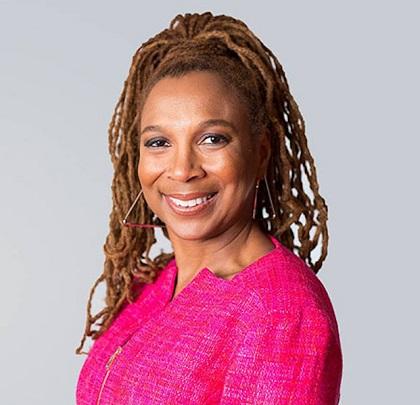 UCLA Distinguished Professor Kimberlé Crenshaw has been honored with the 2021 AALS Triennial Award for Lifetime Service to Legal Education and the Legal Profession by the Association of American Law Schools.
The Triennial Award is among the highest honors in legal education. Only five other people have earned it since its inception in 2006. Crenshaw's colleagues across the legal landscape nominated her for the award while citing her incredible impact on legal scholarship in human rights and civil rights and her many years of service to the academy.
Among the most widely cited scholars in the country, celebrated for her more than three decades of scholarship in critical race theory, Crenshaw holds the Promise Institute Chair in Human Rights at UCLA Law, where she has been on the faculty since 1986 and where she co-founded the Critical Race Studies program in 2000. Notably, she originated the concept of intersectionality in her landmark 1989 University of Chicago Legal Forum article, "Demarginalizing the Intersection of Race and Sex: A Black Feminist Critique of Antidiscrimination Doctrine, Feminist Theory and Antiracist Politics."
In addition, Crenshaw serves as the Isidor and Seville Sulzbacher Professor of Law at Columbia Law School. Well known outside of the legal academy, she is a co-founder and the executive director of the African American Policy Forum, developed and promotes the #SayHerName campaign opposing police brutality against Black women, hosts the Intersectionality Matters! podcast and the Under the Blacklight webinar series, and has been a columnist for The New Republic.
"I would have been delighted to have received the AALS Triennial Award under any circumstances, but it is especially heartening to be honored by my colleagues at a time in which critical race theory and intersectionality have become targets of censorship and legal prohibition in many parts of our country," Crenshaw said in a statement.
"This extraordinary award elevates my hope that the legal academy will stand firm against the deepening crisis over independent thought, free speech, and democratic participation, ensuring the next generation will understand better the challenges to our multiracial democracy that we are struggling with today."
"I'm thrilled to see Kimberlé Crenshaw being recognized with this wonderful and well-deserved honor," says UCLA Law Dean Jennifer L. Mnookin. "Kim's scholarship has had tremendous influence; her idea of intersectionality, for example, has literally made visible the way that race, class, gender, sexual orientation, and disability, for example, can combine and conjoin to produce systemic inequality. She is a remarkable teacher, scholar, and public intellectual."
Crenshaw will be presented with the award at the annual meeting of the AALS in January.
J.D. Critical Race Studies