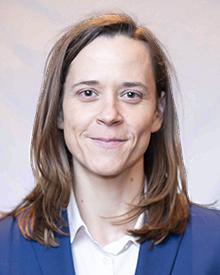 UCLA School of Law alumna Kathleen Foley '18 has secured a 2020-21 Supreme Court Fellowship to work in the Administrative Office of the U.S. Courts, among the most prestigious opportunities for recent law school graduates.
Founded in 1973, the Supreme Court Fellows Program places four promising professionals in the law and political science in four judicial agencies — the U.S. Supreme Court, the Administrative Office of the U.S. Courts, the Federal Judicial Center and the U.S. Sentencing Commission — for year-long terms.
They "gain practical experience in judicial administration, policy development, and education. They also benefit from time to study and write, and a vantage point from which to develop an academic research agenda." The fellowship culminates when fellows complete and present to a committee of federal judges a substantial work of written scholarship that is related to the agency where they are placed.
Former fellows include a wide array of leaders in the judiciary, academia, law and public policy.
Foley serves as a law clerk for Judge Robert L. Wilkins of the U.S. Court of Appeals for the D.C. Circuit and previously clerked for Judge Alan C. Kay of the U.S. District Court for the District of Hawaii. At UCLA Law, she was a senior editor of the UCLA Law Review and earned a Peggy Browning Fellowship to work in union-side labor law at Gilbert & Sackman during the summer after her 1L year, a pursuit that built on her prior experience as a public bus operator in the San Francisco Bay Area.
Several members of the UCLA Law community helped Foley secure her fellowship and placement with the Administrative Office of the U.S. Courts, the judicial agency that manages the vast federal court system. Professors Gerald P. López and Jon D. Michaels submitted letters of recommendation on her behalf, and fellow UCLA Law graduates offered her essential advice and encouragement.
"I'm very grateful for all the ways in which UCLA Law prepared me for this work, and to all the people who helped me pursue this position — from the professors who wrote to support my application, to those who taught and mentored me and continue to do so, to the staff and members of the administration who've given help and advice over the years," Foley says.
"I'm fascinated by the work of the federal courts, and I'm passionate about both public service and the law, so the opportunity to spend a year as a Fellow is very exciting."