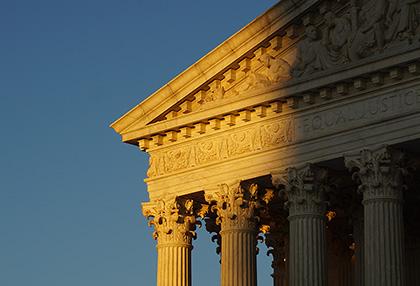 As the Supreme Court's most recent term has now ended, observers are left to consider the many historic decisions that will have a lasting impact for years to come.
In a June 30 webinar titled "From the Frontlines: The Supreme Court Rulings on Affirmative Action, LGBTQ Rights, and Student Debt," public writings and even social media videos, UCLA School of Law experts have stepped in to break down some of the most pivotal decisions.
Here is what they had to say.
Affirmative action
The Court's landmark affirmative action decision in Students for Fair Admissions v. University of North Carolina and Students for Fair Admissions Inc. v. President & Fellows of Harvard College caused immediate shockwaves across higher education and beyond. In our June 30 webinar, Distinguished Professor Jerry Kang emphasized that "there has always been a compelling interest to stopping race discrimination right now." But, he said, in this case, "the Supreme Court effectively overruled 45 years of precedent, stating that diversity was no longer a compelling interest." On Instagram, Kang also presented this explainer.
The ruling was deeply felt across the law school and UCLA, as Assistant Dean for Diversity, Equity, and Inclusion Initiatives Brenda Suttonwills and Williams Institute Founding Executive Director Brad Sears both strongly emphasized in the webinar. They stressed the law school's commitment to diversity and inclusion, added how vital those efforts are to the institution and the legal profession and made clear that all students belong at UCLA. About the affirmative action ruling, Suttonwills invoked Justice Ketanji Brown Jackson when she said, "Turning a blind eye toward bias and racism doesn't make it disappear."
Dean Russell Korobkin shared that sentiment in a message to the law school community on the day that the decision landed, highlighting several upcoming events that will continue to respond to this decision:
July 5, 10:30 a.m. PT – In a virtual panel, Professor Cheryl Harris will join experts from Big Ten law schools as they assess the consequences of the affirmative action ruling.
July 29, 5 p.m. PT – Members of the Critical Race Studies faculty will convene for the discussion "Affirmative Action on Trial: A Review of the Supreme Court's Affirmative Action Decision." (Additional event information is forthcoming.)
This fall, the UCLA Law will present our annual Whither the Court event, led by Professor Adam Winkler, where this and several other pivotal decisions will be evaluated. (Additional event information is forthcoming.)
Voting rights and elections
Key decisions in Moore v. Harper and Allen v. Milligan impacted the course of voting rights and election law in the United States. Professor Richard Hasen, founder and director of UCLA Law's Safeguarding Democracy Project, responded to the cases through multiple appearances in the media, an opinion piece in The New York Times, discussion on social media, and a webinar on the effects of this key turn of events in the legal world. Also on Instagram, Professor Joseph Fishkin offered this discussion of Moore v. Harper.
First Amendment
The First Amendment was at issue in 303 Creative LLC v. Elenis, another pivotal case involving speech and LGBTQ rights. (Read an amicus brief that Williams Institute scholars submitted earlier.) Professor Cary Franklin is the faculty director of both the Williams Institute and the Center on Reproductive Health, Law, and Policy at UCLA Law. In the webinar, she said, "I do think that on the logic of this opinion, some … discrimination will now be allowed…. This case is part of a much broader context, it's part of a culture war, it's part of an attempt to erode the equal status that the same-sex marriage [case], Obergefell, and the case decriminalizing homosexuality, Lawrence, [found] – these are both 21st century cases that really put gay people on equal footing with straight people. And this is what the campaign to erode and attack those decisions looks like."
Environment
Sackett v. EPA was an important case for the environment, and Cara Horowitz and Julia Stein of the Emmett Institute on Climate Change and the Environment participated in this deep-dive Q&A for LegalPlanet, about the case and its impact.
Student debt
The Court's decisions in Biden v. Nebraska and Department of Education v. Brown thrust student debt back to the fore of the national conversation. "This case is really about the constitutional and legal vision of the current supermajority of the justices, which has as one of its really central pillars the idea that it's important to build new legal doctrines to reign in the administrative state – to reign in government, perhaps especially when it comes to government programs that seem to involve some form of redistribution," Fishkin said in the June 30 webinar. "The concrete impact of this case is this going to be a kind of short- and medium-term disaster for a generation of student borrowers."
Native American rights
Cases including Haaland v. Brackeen and Arizona v. Navajo Nation affected the rights and lives of people in Indian Country. On Instagram, Professors Angela Riley and Lauren van Schilfgaarde offered their takes on Haaland v. Brackeen.
Trademarks
The case Jack Daniel's Properties, Inc. v. VIP Products LLC added to the court's growing slate of decisions in trademark law, and Professor Mark McKenna broke it all down on Instagram.