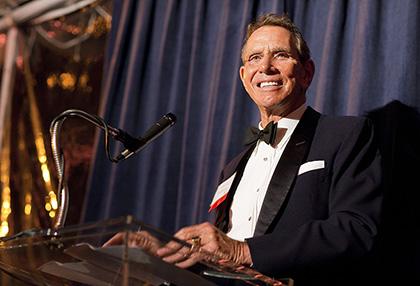 Members of the UCLA School of Law community are mourning the death of Charles "Chuck" Williams, a celebrated philanthropist and businessman who co-founded the Williams Institute at the law school in 2001. Williams died at home on April 12, 2023. He was 88 years old.
Williams was known across UCLA for his generosity and vision. His $2.5 million gift to found Williams Institute – the nation's preeminent center of LGBTQ legal research and policy, and the first to be housed at a law school – made history as the largest donation ever given to a college or university in support of LGBTQ research. To date, Williams and his husband, Stu Walter, have committed more than $20 million to UCLA with most of it supporting the institute.
The Williams Institute has been at the forefront of the key issues involving LGBTQ people for the past two decades, including, most notably, the successful push for marriage equality. Today, it is recognized as the national leader in rigorous, independent research on sexual orientation and gender identity law and policy. The institute disseminates its research to policymakers, judges, the media and other stakeholders to ensure that decisions impacting the lives of millions of LGBTQ people and families are based on data and facts.
In a message to the community, Brad Sears, the founding executive director and David Sanders Distinguished Scholar of Law & Policy at the Williams Institute, wrote, "This is a difficult loss. Chuck's legacy lies in his incredible warmth towards other people, his relationships with Stu and his many friends, and his vision and philanthropy in support of the LGBTQ community and the Williams Institute."
A Double Bruin, Williams earned his B.A. and MBA from UCLA. He is a former senior executive at Sperry Corporation and more recently ran the consulting firm Williams and Associates. A visionary business leader, he taught business courses in policy and strategy and continued to consult in this area late into his life.
In addition to his service to and engagement with UCLA Law – both with the Williams Institute and as a trusted member of the law school's board of advisors – Williams was a board member of the UCLA Foundation. He was also a member of the Gill Foundation's OutGiving advisory committee.
Throughout his career, he was recognized by many LGBTQ organizations and publications. In 2002, the Lesbian and Gay Bar Association honored him with their Co-President's Award, and OUT magazine named him one of their "Out 100." In 2003, the L.A. Gay and Lesbian Center presented Williams with its Board of Directors Award.
A memorial service is being planned for June and details will be announced in the coming weeks.