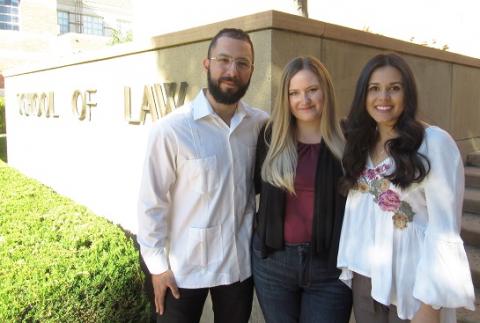 Three UCLA School of Law students have received Skadden Fellowships to pursue public interest law after they graduate. The two-year fellowships, presented annually since 1988, are among the most prestigious and competitive awards for public interest law students.
UCLA Law continues to produce outstanding public interest students who are poised to make a difference in underserved or low-income communities, and each new Skadden Fellow is from UCLA Law's David J. Epstein Program in Public Interest Law and Policy, which provides curricular, counseling and mentoring support to students pursuing public interest and public service careers.
In their fellowships, Stephano Medina '20, Eliana Navarro Gracian '20 and Kelsey White '20 will advocate for, respectively, poor Los Angeles residents who face eviction, low-income rural communities, and students of color with disabilities living in foster care.
Medina will work with the Eviction Defense Network in Los Angeles to represent community organizations in gentrifying Community Plan Areas, pushing for rules that protect the housing rights of low-income communities of color. His extensive advocacy experience includes work with the Los Angeles Neighborhood Land Trust, the Los Angeles Tenants Union and Public Counsel's Community Development Project. At UCLA Law, he has served on the Critical Race Studies program student-faculty committee, on the board of the school's National Lawyers Guild chapter, and as a student in the Real Estate Law Clinic.
Navarro Gracian's fellowship will take her to St. Louis, Missouri, where she will work with the Migrant and Immigrant Community Action Project. She will help establish a program that delivers holistic legal representation in underserved rural areas and legal education that supports children who are separated from their parents due to immigration enforcement. A previous recipient of an Equal Justice America fellowship, she has worked at the Northwest Immigrant Rights Project in Washington state and provided emergency legal assistance to asylum seekers in Tijuana, Mexico. At UCLA Law, she has been a leader of the La Raza Law Students Association.
White will join the Alliance for Children's Rights in Los Angeles, where she will represent low-income students of color who have disabilities and live in foster care in special education, school discipline and juvenile court settings. White previously received an Equal Justice America fellowship, worked at the East Bay Community Law Center in Berkeley, California, and participated in the education program at the Alliance for Children's Rights in Los Angeles. At UCLA Law, she has served in the El Centro Legal Clinics' Youth Deportation Defense Clinic and Education Rights Clinic, and she was co-president of the First Generation Law Students Association.
Founded by the law firm of Skadden, Arps, Slate, Meagher & Flom, the Skadden Fellowship program has supported nearly 850 law students in its history. To date, about 30 UCLA Law students have won Skadden Fellowships. Skadden Fellows receive a full salary and benefits for two years as they join nonprofit organizations representing low-income populations with limited access to legal resources.