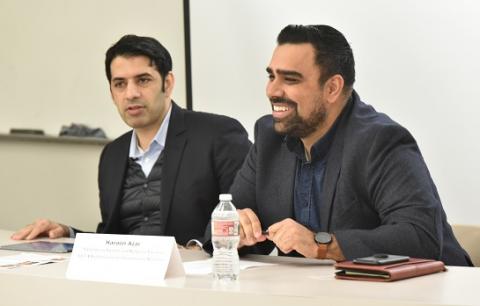 Leading scholars and practitioners working on issues stemming from the explosive growth of social media converged at UCLA School of Law on Feb. 15 for a meeting that examined the role communications technologies play in democracy and public discourse.
The day-long event, "Can Social Media Be Fixed? (And Do They Need Fixing?)," was presented by UCLA Law's Ziffren Center for Media, Entertainment, Technology and Sports Law and Program on Understanding Law, Science and Evidence (PULSE). Neil Netanel, the Pete Kameron Professor of Law at UCLA Law and an expert in the law of copyright, free speech and technology, organized the program.
More than 50 UCLA Law faculty members, alumni, students and invited guests observed panels that probed issues including the spread of fake news and disinformation, the moderation of potentially problematic content, and the broader impact that social media has on upsetting democratic norms.
UCLA Law faculty members moderated the discussions: lecturer Dale Cohen, director of UCLA Law's Documentary Film Legal Clinic and special counsel for the PBS series Frontline; assistant professor Kristen Eichensehr, a prominent scholar in the law of cybersecurity; and assistant professor Richard Re, faculty co-director of PULSE.
In a lunchtime keynote conversation co-sponsored by UCLA's Burkle Center for International Relations, Facebook public policy manager Shaarik Zafar spoke with UCLA Law alumnus Haroon Azar '08, program director of the UCLA Initiative on Security and Religious Freedom.
They discussed the ways in which the social media giant is moderating speech on its platform amid growing concerns that misinformation poses a substantial risk to the global community.