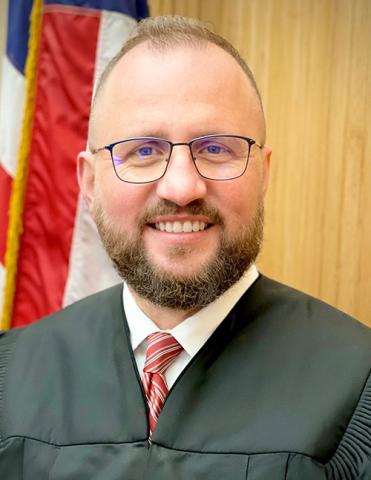 In September, Salvador Mendoza Jr. '97 was sworn in as a Ninth Circuit Court of Appeals judge in Richland, Washington. Geographically, he wasn't far from the orchards where he worked picking apples as a teen, but he was worlds away in other respects.
Mendoza brings 25 years of legal and judicial experience to this new role and joins five other UCLA Law alumni currently serving on the Ninth Circuit.
"I cannot express the amount of gratitude I have for the folks throughout my educational background – all of the teachers, counselors, program staff who made sure that a migrant kid like me, who could have been tossed out or ignored, was instead given an opportunity," Mendoza says.
While his own trajectory has been remarkable, Mendoza works hard outside of the courtroom to make legal careers more accessible to the next generation of students, in hopes of continuing to diversify the legal field.
Choosing law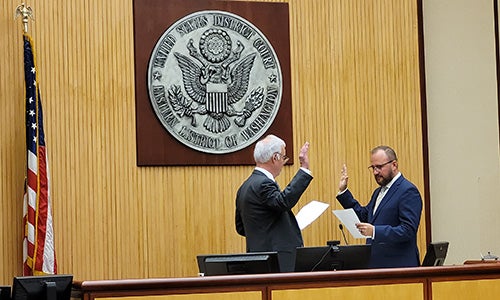 The middle of five children, Mendoza was born in Los Angeles to parents from Jalisco, Mexico. His father had just one year of formal schooling, and his mother had grown up without running water in a mud hut with a palapa, or thatch, roof. In the U.S., they hoped to build a better future.
Although the family moved around a lot, Mendoza grew up primarily in Washington's Yakima Valley, where he joined his parents and older siblings working on farms, following the cherry harvest to Montana in the summer, and picking apples in Washington during the fall. Thanks to the Washington State Migrant Education Program, Mendoza was able to earn school credit even when he worked in the fields well past the beginning of the academic year.
When an uncle told Mendoza that he was so litigioso, or argumentative, that he should become a lawyer, he decided to do just that – despite never having met an attorney or a law student in his life. Believing he would have a better shot at college if he spent his senior year in school, Mendoza made a deal with his dad that he would earn money working part time at the local pizza joint instead of traveling with the family to work the fields.
Mendoza credits a holistic admissions program at the University of Washington, which considered a host of factors beyond just his grades, as the reason he was accepted to college. Although Mendoza initially followed his counselor's advice to study political science as a precursor to a law degree, Mendoza was captivated by his very first philosophy class.
"Suddenly, like in the movies, the doors swing wide open and in comes this heavy set, bearded man in a coat with a bunch of papers and a coffee mug that he's spilling all over the place. He gets to the front and starts his lecture, and I was hooked. It was the best thing in the world," Mendoza recalls. "I may have run to the counselor's office and changed my major right after class."
In 1994, Mendoza chose to enroll at UCLA Law, which he felt offered a welcoming environment for Latino students. The school was then home to one of the largest percentages of Latino law students in the U.S., and ran an active Chicanx Latinx Law Review, of which he became co-editor in chief.
Beyond public service, Mendoza had no clear plans for his legal career. Through the Public Interest Law Fund, he spent his first summer working for the United Farm Workers.
"I had this incredible opportunity and skill to help individuals whose plights I totally understood, making sure that they understood what their rights were," he recalls. "It was a full circle moment for me."
Entering court
In his second summer, Mendoza interned at the Washington state attorney general's office, and he returned there after finishing law school.
"The wonderful thing about UCLA Law was that even though I went through law school not knowing exactly what kind of law I wanted to do, coming out of it I felt I would be prepared to do anything," he says. "I had a lot of interests then, and I still do."
Those varied interests led Mendoza to trade the attorney general's office for the prosecutor's office to pursue trial law, and then transition to private practice as a defense attorney for 15 years, in municipal, juvenile, and eventually federal courts throughout Washington, Idaho, Montana and Michigan.
In private practice, Mendoza appreciated the freedom to spend time volunteering in the community. In 2002, he leveraged his courtroom experience and connections to establish Eastern Washington's first juvenile drug court, which continues operating today.
"What was appealing to me was not having to throw these kids with severe drug problems in jail – because that's what juvenile detention is," Mendoza says. "So, we built this program from the ground up, giving judges an alternative to incarceration and giving kids an option to not have convictions in their background."
Diversifying the legal system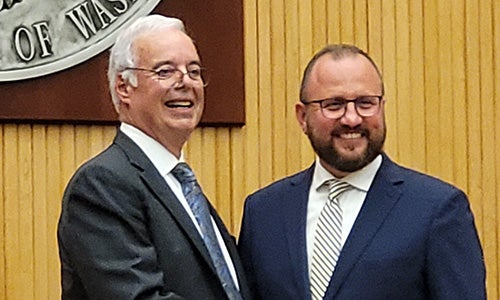 For many years, Mendoza served as a judge pro tempore, or substitute, in municipal and juvenile courts in Eastern Washington. But in 2013, he was appointed to the Superior Court for Benton and Franklin counties, and the following year, he was nominated to the U.S. District Court for the Eastern District of Washington.
He was that district's first Latino judge, the significance of which was not lost on him – especially when a Latina in her sixties approached him, crying tears of joy.
"I think it was good for the community as a whole," Mendoza says. "From an inspirational perspective, it's important for people to see that their kids can grow up to be an attorney or a judge.
"From a practical position, too, it's important to have diversity on the bench to add experiences others may not have had," he adds. "Especially when developing policies for the court such as having interpreters available to folks in hearings."
Language and culture emerged as important issues throughout Mendoza's career. More times than he can count, clients told him they preferred to be counseled by someone who understood their language and culture – even when he told them they could get better legal expertise from someone else.
"Ultimately, a client's comfort is an important part of representing them," Mendoza says. "It's about resolving their legal problems – in my cases, involving criminal matters – but it's also making them feel at ease in one of the most difficult and important times in their lives."
Through outreach efforts, Mendoza aims to help inspire diverse students to pursue legal education and careers. He helps put on the annual Tri-Cities Youth and Justice Forum to introduce about 200 underrepresented students each year to careers in law – the type of opportunity he wishes he could have had.
He recalls a hearing where the federal judge, the federal defender, the assistant U.S. attorney, and probation officer were all Latino or Latina. That had never happened in the Eastern District of Washington.
"It was one of those moments where I thought to myself, 'Why is this such an anomaly?'" he recalls. "It's wonderful to continue to diversify our profession."
Believing in the promise
As a district court judge for eight years, Mendoza issued over 9,000 orders and opinions, taking pride in the opportunity to make a positive difference.
"I enjoy making an impact in the lives of individuals who appear before me," he says. "It's about formulating a sentence in a way that helps someone – maybe adding a drug treatment or mental health component to their sentence."
That practical courtroom experience, both as a judge and an attorney, are perspectives he hopes will benefit the Ninth Circuit Court of Appeals, especially since many of his peers on the bench come from backgrounds in big law or academia.
"I want to be able to impart my real experience to the court of appeals and take this opportunity to look at cases coming before me and think back on how I handled similar issues as a district court trial judge and a trial attorney," Mendoza says.
As Mendoza raised his right hand to be sworn in on September 16, 2022, he reflected for a moment on how far not only he had come, but also his mother.
"All of her decisions, picking up and leaving her country and coming to the U.S. to create a better future for herself, led to the moment I am now swearing in to become a circuit court judge," Mendoza says. "Her belief in the promise of America led to this moment."