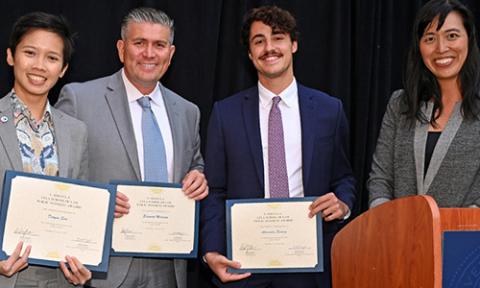 This April, nearly 200 members of the UCLA School of Law community gathered in the Shapiro Courtyard for the school's fifth annual U. Serve L.A. Celebration honoring students and alumni for their commitments to pro bono, public interest, and public service.
This year, five UCLA Law Alumni were singled out for special recognition: Dorothy Wolpert '76, for a lifelong dedication to pro bono work; Nana Gyamfi '92, for her trailblazing activism for human rights and Black lives; Marisa Hernández-Stern '10, for championing diversity and inclusion in the legal world; Tasha Hill '14, for her tireless defense of LGBTQIA+ people in the criminal legal system; and Andrès Kwon '16, for his fierce advocacy for immigrants in the criminal legal system.
Wolpert, who, with her late husband Stanley, a longtime UCLA history professor and administrator, was recently featured in a UCLA Law story titled, "A Career of Uncommon Decency," reflected on that title in her remarks.
"I was very proud to see that title," said Wolpert, "but then I was struck by the adjective, 'uncommon.' Because when I was young the word that always preceded decency was 'common,' because it was shorthand for a code of conduct, a set of principles, a way of treating other people that was expected."
"I have thought about whether some of the sad or painful aspects of our current public life are reflected in that word change."
The law school has further honored the legacy of the Wolperts by announcing the new Dorothy and Stanley Wolpert Public Interest Fellowship fund. The inaugural recipient of that fellowship, James Degen, a rising 2L who intends to practice public interest law, will be placed at the Tenant Defense Project at Inner City Law Center. "I am really motivated by the ICLC's mission," says Degan, "I want to get substantive experience doing tenant defense to learn if it is a path I want to pursue."
In addition to the alumni honored, ten students from UCLA Law's J.D., LL. M., and Masters of Legal Studies programs were recognized for their commitment to pro bono work and public interest law: Joseph Gaylin J.D. '24, Shireen Jalali-Yazdi J.D. '24, Joseph Kim J.D. '23, Nicole Powell JD '23, Christian Gutierrez J.D. '22, Shyann Murphy J.D. '22, Joe Philipson J.D. '22, Alexandre Ferraro, LL.M. '22, Deryne Sim LL.M. '22, and Eduardo Miranda M.L.S. '22.
"At UCLA School of Law, I've been honored to receive several chances to serve my own community," said Powell. "I do this work because it's important to me to use the resources I've been given as a law student as tools in service to others. This work has also provided meaningful opportunities to build relationships with my classmates, neighbors, and public interest-minded lawyers."
The event was co-sponsored by the David J. Epstein Program in Public Interest Law and Policy and the new Judge Rand Schrader Pro Bono Program The highly competitive Epstein Program program nurtures the next generation of public interest leaders. It had a vested interest in the celebration, as six of the students recognized are currently enrolled in the program: Gaylin, Jalali-Yazdi, Kim, Gutierrez, Murphy, and Philipson. In addition, three of the honored alumni were graduates of the Epstein Program: Hernández-Stern, Hill, and Kwon.
In the past twenty-three years, over 700 graduates of the Epstein Program have gone on to further the program's mission in the private, public, nonprofit, and academic sectors.
"Because of its longstanding commitment to public interest, UCLA Law attracts students with tremendous passion and commitment," says Brad Sears, Associate Dean for Public Interest Programs. "From the storied Epstein Public Interest Law and Policy Program to the newest Schrader Pro Bono Program, UCLA Law nurtures that passion to build a community of students, faculty, and alumni dedicated to justice."