Debrief of the Oral Arguments in Haaland v. Brackeen
Join us November 10th for a debrief on Brackeen v. Haaland with the nation's leading experts, Maggie Blackhawk, Professor at NYU Law, Keith Harper, Chair of the Native American Law Practice at Jenner & Block, and Kate Fort, Director of the Indian Law Clinic at MSU School of Law. The panel will be moderated by Lauren van Schilfgaarde, UCLA School of Law.
Register HERE for the webinar. We will also be live streaming to Youtube and our Facebook page. Scroll below for additional resources.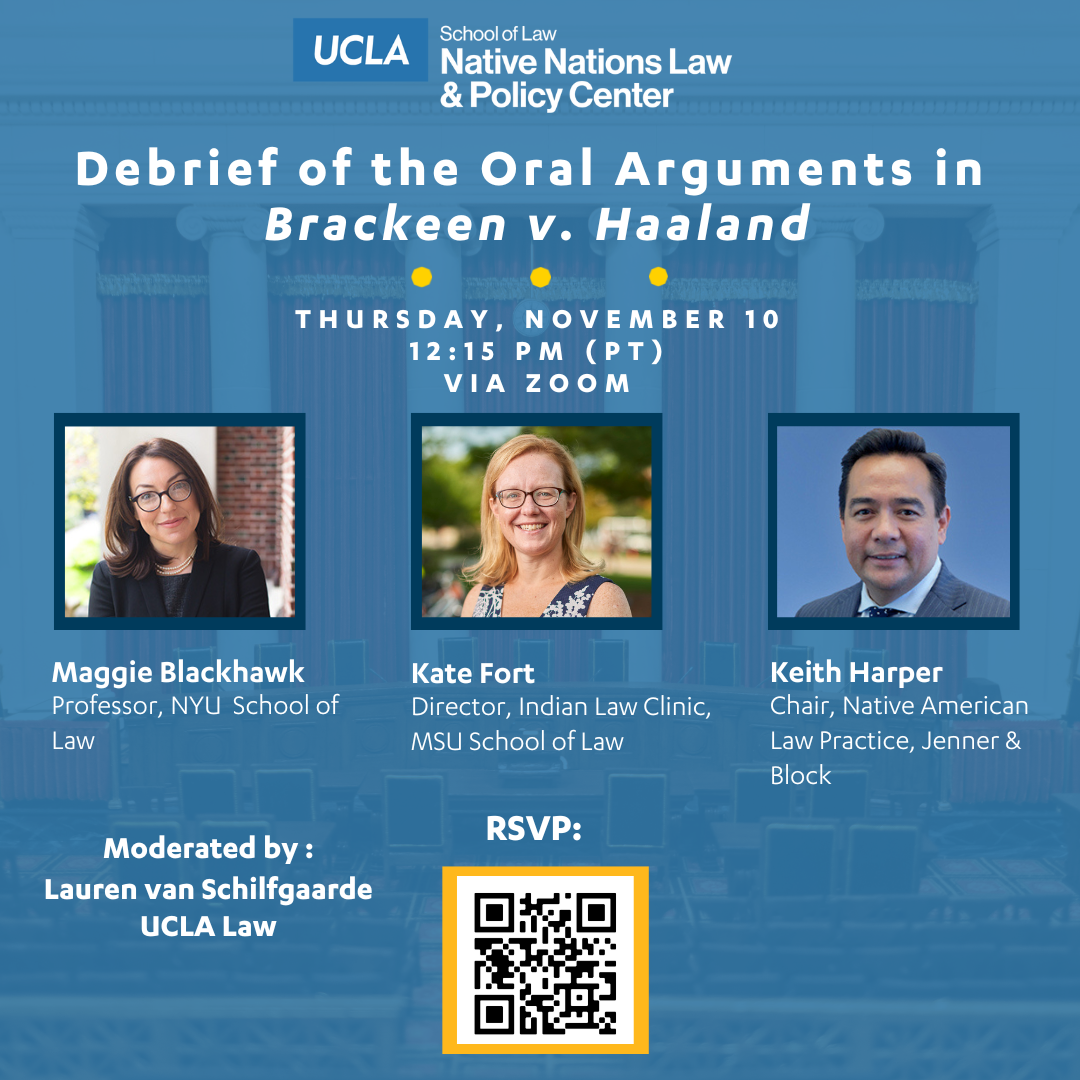 To learn more about ICWA and the Brackeen v. Haaland, here are additional resources:
November 9, 2022 - Oral Arguments
Supreme Court Briefs (including amicus briefs) can be found on the TurtleTalk page.
This Land (Season 2) podcast explores the history of the case and background on ICWA challengers.
Selected media on the Brackeen Case:
The Supreme Court Case that Could Break Native American Sovereignty by Rebecca Nagel in The Atlantic.
The Fate of Indian Child Welfare Before the Supreme Court: Race, Commerce and Commandeering by Nancy Marie Spears in the Imprint
How a Chippewa Grandmother's Adoption Fight Ended Up in the U.S. Supreme Court by Nancy Marie Spears in the Imprint
In Arizona, small tribe watches warily as the Supreme Court takes up Native adoption law in Washington Post
For decades, welfare laws kept Native American families together. Will the Supreme Court end them? in the Guardian
---
The Native Nations Law & Policy Center offers many events that address critical public policy issues facing Native tribes.
To stay up to date with plans for future events, contact nativenationslaw@law.ucla.edu.
---