The Safeguarding Democracy Project at UCLA Law promotes research, collaboration, and advocacy aimed at ensuring continued free and fair elections in the United States, conducted in accordance with democratic norms and the rule of law. The events following the 2020 presidential elections, which led to the dangerous January 6, 2021 insurrection at the United States Capitol, demonstrated that the American electoral system depends as much, if not more, on people acting in good faith as upon mere legal constraints. Since those events, this risk of election subversion has been coupled with new efforts to make it harder for some eligible voters to register and to vote. These changes threaten the cornerstone of American democracy: that all eligible voters, and only eligible voters, will be able to freely cast a vote that will be fairly and accurately counted, with the winner of the election peacefully taking office and accepted as legitimate.
Under the leadership of UCLA Law Professor Richard L. Hasen, one of the nation's leading election law scholars, the Safeguarding Democracy Project is built upon the premise that tackling issues of U.S. election integrity must be collaborative: across ideologies, across scholarly disciplines, and as a bridge between theory and practice.
The Safeguarding Democracy Project brings together in dialogue scholars, election administrators, legislators, lawyers, voting rights advocates, and concerned citizens to develop practical solutions to urgent problems. It holds conferences, produces reports, and files legal briefs to educate and serve the public good.
---
National nonpartisan ad hoc committee, under the auspices of the SDP, releases report with 24 recommendations for protecting election integrity in 2024
A national nonpartisan panel led by UCLA professor Richard Hasen issued 24 recommendations for safeguarding the 2024 U.S. elections.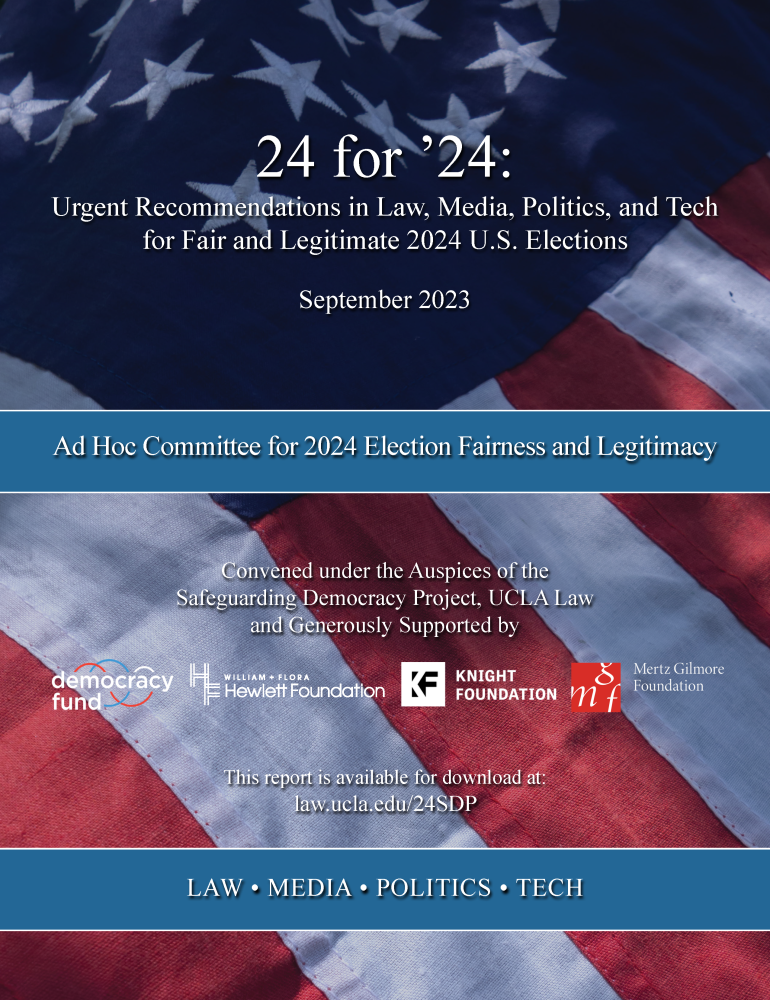 ---
Upcoming SDP Events
Upcoming Events

We will announce our line-up of webinars for winter and spring 2024 soon.
Past Events
2023-24

November 16 - Covering the Risks to Elections on the State and Local Level: Views from the Beat Reporters

Jonathan Lai (Philadelphia Inquirer, Politico)
Moderated by Pamela Fessler (retired from NPR)

 

 

 

 

---

October 20 - The Law and Politics of Potentially Disqualifying Donald Trump from Running for President

Online Conference

Conference: The Law and Politics of Potentially Disqualifying Donald Trump from Running for President

UCLA Law's Safeguarding Democracy Project

Conference Agenda

Introduction

Deciding on Presidential Disqualification: Who, How, When, and Where?

Edward B. Foley
Derek Muller
Lisa Manheim
Moderator: Rebecca Green

The Politics of Candidate Disqualification: Here and Abroad

Gretchen Helmke
Sam Issacharoff
Daniel Ziblatt
Moderator: Julia Azari

Does Section 3 of the 14th Amendment Bar Trump from Holding Office?

Mark Graber
Sherrilyn Ifill
Kurt Lash
Moderator: Guy Charles

Conclusion: Roundtable Discussion and Q & A with All the Participants

Moderator: Richard L. Hasen

---

October 17 - The Trump Prosecutions, the First Amendment, and Election Interference

---

 

October 12 - The Roberts Court and American Democracy

Webinar

Moderated by Richard L. Hasen

 

---

---

September, 26 - How Should Platforms Handle Election Speech and Disinformation in 2024?

Webinar

Katie Harbath (Anchor Change)
Josh Lawson (Advisor to the Aspen Institute on A.I. and democracy-related risk, formerly of Meta)
Yoel Roth (formerly of Twitter)
Brandon Tucker (Color of Change)
Moderated by Richard L. Hasen

---

 

September 5 - The Trump Indictments, the 2024 Elections, and Public Peace

---

Webinar

2022-23

U.S. Democracy and the Independent State Legislature Theory after the Supreme Court's Moore v. Harper Decision

---

UCLA Law's Safeguarding Democracy Project hosted a flash webinar, on June 28, 2023 featuring leading election law scholars:   

On June 27, the Supreme Court on a 6-3 vote in Moore v. Harper rejected the most extreme version of the "independent state legislature theory" that could have upended U.S. elections. But the Court preserved a role for itself in reviewing state court decisions applying state election laws in presidential and congressional elections. What does this opinion mean for the future of American democracy? How likely is it that it will lead to more federal court intervention into U.S. elections? Why did the Court decide the case when it appeared to some to be moot? 

---

 

April 4 - Confronting the Insider Threat on Election Security and Protecting Election Officials

---

 

March 17, 2023 - Can American Democracy Survive the 2024 Elections?

The Safeguarding Democracy Project at UCLA School of Law convened leading election officials, election administrators, scholars, lawyers, and community leaders in a cross-ideological, interdisciplinary conversation to consider ongoing threats to free and fair elections in the United States, and what may be done for a safe and successful 2024 U.S. presidential election. 

More information | Conference schedule

---

 

March 2, 2023 - Meme Wars: The Untold Story of the Online Battles Upending Democracy in America

Co-Sponsored with UCLA Law's Institute for Technology, Law & Policy

---

 

February 16, 2023 - Laboratories Against Democracy

---

 

January 26, 2023 - What "Ultra" Can Teach Us About Threats to American Democracy Today

---

 

November 22, 2022 - Lessons for Democracy from the 2022 Midterm Elections

Speakers

---

 

October 27, 2022 - Trump, Trumpism, and the Future of American Democracy

A conversation with:

---

 

October 14, 2022 - Conference with Stanford's Program on Democracy and the Internet, "Should Donald Trump be Returned to Social Media?"

The Program on Democracy and the Internet (PDI) at Stanford University and UCLA Law's Safeguarding Democracy Project will host a half-day streamed conference, "Should Donald Trump Be Returned to Social Media?" Leading scholars in the areas of cyber law, election law, constitutional law, and human rights law will discuss whether former President Donald J. Trump should be restored to Twitter, Facebook, and YouTube if he declares that he is a candidate for the Presidency. Although at this moment that question is a private matter for the companies, they will be making the decision in the shadow of recent legislation in Florida and Texas (currently subject to First Amendment litigation) that would require certain social media companies to carry politicians' speech under some circumstances. The conference will use this case study to foster a larger dialogue about the effects of deplatforming and replatforming political figures and discuss the key considerations involved in these decisions implicating free speech and safeguarding democracy.

You may download papers for the conference at this link.

Conference speakers:

---

 

September 29, 2022 - Lessons from the January 6 Committee: A conversation with Representative Adam Schiff

Featuring:

---

 

September 20, 2022 - Special From the Frontlines: The United States Supreme Court and American Democracy: View of Three Journalists

Featuring:

---

 

August 25, 2022 - Moore v. Harper, the Independent State Legislature Theory and Potential Threats to American Democracy

Featuring:

---

 

August 24, 2022 - Can Proposed New Congressional Legislation on Counting Electoral College Votes Lessen the Risk of Election Subversion?

Featuring:
Reports and Resources
Reports

Videos

Rick Hasen on CNN News Central Talking About Trump Indictment and American Democracy 8/3/23

From the Fair Elections and Free Speech Center

Is the US. Constitution Up to the Task of Preserving American Democracy? (Jack Balkin, Michele Goodwin, Michael Klarman (Rick Hasen moderator))

Symposium: Election Subversion: Is U.S. Democracy in Danger? (Julia Azari, Edward Foley, Mara Liasson, Bob Bauer, Guy-Uriel Charles,  Larry Diamond, Ben Ginsberg, Rick Hasen, Gretchen Helmke, Steve Levisky, Isabel Longoria, Sarah Longwell, Michael Morley, Janai Nelson, Rick Pildes, Brad Raffensperger)

Disinformation in American Elections, Part I: Election Officials (Jocelyn Benson, Neal Kelley (Tammy Patrick moderator))

Disinformation in American Elections, Part II: Legal Scholars (Danielle Citron, Spencer Overton, Nate Persily (Rick Hasen moderator)) Disinformation in American Elections, Part III: Social Scientists (Joan Donovan, Renee DiResta, Brendan Nyhan (Pam Fessler moderator))

What Can and Should Journalists Do to Prevent Election Subversion and Another January 6? (Bart Gellman, Jessica Huseman, Margaret Sullivan (Rick Hasen moderator))