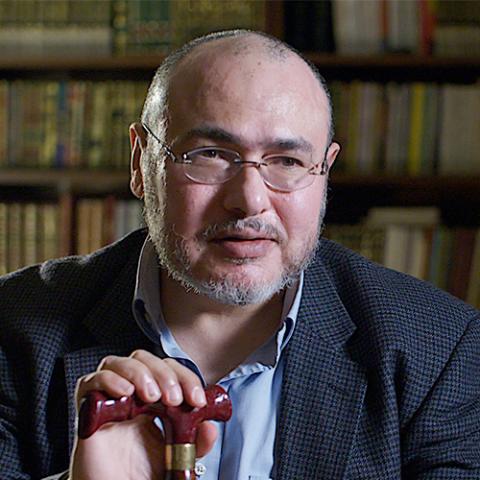 UCLA School of Law Professor Khaled Abou El Fadl received the American Academy of Religion's Martin E. Marty Award for the Public Understanding of Religion in a virtual ceremony on Dec. 7.
In presenting Abou El Fadl with its highest award, the eminent organization recognized his "extraordinary, relevant, broad-reaching contributions to the public understanding of religion" and his "influences inside and outside of the academy."
Abou El Fadl is the Omar and Azmeralda Alfi Distinguished Professor of Law at UCLA Law, where he has served on the faculty since 1998. He is an internationally renowned authority on Shari'ah, Islamic law and Islam, and a prominent scholar in human rights. The recipient of many honors for his trailblazing work in the field, he is the founder of the Institute of Advanced Usuli Studies (The Usuli Institute), a nonprofit educational institute dedicated to ethics, beauty and critical thinking in the Islamic intellectual tradition.
A prolific scholar, Abou El Fadl has published scores of articles, chapters and books that present a scholarly approach to Islam from a moral point of view, writing extensively on universal themes of humanity, morality, human rights, justice, and mercy. He is well known for his writings on beauty as a core moral value of Islam. At UCLA Law, he teaches International Human Rights; Islamic Jurisprudence; Political Asylum and Refugee Law; the Trafficking of Human Beings: Law and Policy; Political Crimes and Legal Systems; and Muslims, Race and Law.
Founded in 1909, the AAR is the world's largest society dedicated to the scholarly study of religion, with a mission "to foster excellence in the academic study of religion and enhance the public understanding of religion" and a commitment "to promoting academic excellence, professional responsibility, free inquiry, critical examination, diversity, inclusion, respect, and transparency within the academic study of religion and in the work of the AAR itself."