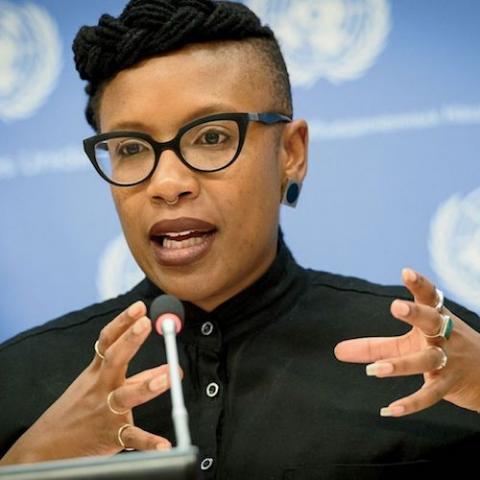 UCLA School of Law Professor E. Tendayi Achiume has been named a 2021 World Economic Forum Young Global Leader.
The honor from the World Economic Forum – the organization that presents the renowned annual summit in Davos, Switzerland – celebrates "the world's most inspiring and responsible leaders under the age of 40." It recognizes people who "come from different communities and industries worldwide" and are committed to making a difference.
This year's 112 honorees include leaders in politics, economics, social movements, and the arts, and eight, including Achiume, are from Africa. According to the World Economic Forum, "These young leaders exemplify what we need most today: hope, empathy, authenticity and the drive to develop solutions that can change the world for the better."
Achiume earned her B.A. and J.D. from Yale University and joined UCLA Law in 2014. Since 2017, she has also served as the United Nations' Special Rapporteur on Contemporary Forms of Racism, Racial Discrimination, Xenophobia and Related Intolerance. She is the first woman to hold that position, and she frequently travels the globe to observe situations of severe injustice and draft reports on inequality, hate speech, and other matters of grave concern, often with key input from her students.
At UCLA Law, she teaches international human rights law, property, and the innovative International Human Rights Clinic, through which students collaborate with local and international human rights organizations on policy, litigation, and advocacy projects. She has taken teams of students to U.N. summits in New York and Switzerland, where they gained an inside view into international human rights work at the highest level.
In 2020, she won the UCLA Distinguished Teaching Award, the university's highest recognition of excellence in the classroom.
J.D. Critical Race Studies

J.D. International and Comparative Law