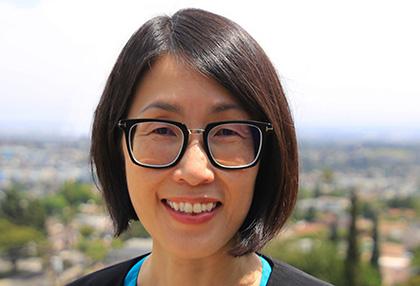 Before Shiu-Ming Cheer '00 made her way to the halls of UCLA Law, she was already involved in the pursuit of social justice as an undergraduate activist at UC Berkeley. Her activism came to a head in 1995 when she, along with other student organizers, was arrested after performing a sit-in during a UC Regents' meeting to protest the UC system's plans to eliminate its affirmative action policy.
"That was just very frustrating because I felt like we had done everything we could through the normal route of protest and pressure," Cheer recalls in an interview over Zoom, noting she held a similar sit-in over student diversity while a law student at UCLA. "At that point, we just really wanted to express how strongly we disagreed with the decision to dismantle affirmative action."
Today, the policy against affirmative action that she protested remains in part due to a 1996 state law known as Prop. 209, which has prevented California's public schools from legally using race or ethnicity as a criterion for admissions to boost student diversity.
This June, the Supreme Court will decide on two landmark cases related to affirmative action in higher education — Students for Fair Admissions v. Harvard, and Students for Fair Admissions v. University of North Carolina — which challenge the constitutionality of using race as a consideration in university admissions. Though California has had a ban on race conscious admissions for nearly 30 years – which is what Cheer protested as a law student – the potential overturning of race-conscious admissions nationally could impact private colleges in the state and have impacts beyond higher education.
As the saying goes, knowledge is power. It's one reason why Cheer decided to pursue her law degree at UCLA, where she found like-minded people in her professors and classmates in the David J. Epstein Program in Public Interest Law and Policy.
"I just really wanted to be in a cohort and in a community where people also felt strongly about social justice," she says of her choice to attend UCLA Law.
While Cheer's advocacy no longer primarily takes the shape of sit-ins, the accomplished immigration attorney still views community organizing as the best way to inspire social change. And her legal expertise has been a valuable arsenal in advocating for reforms and protections for those who are most vulnerable.
Cheer champions immigration justice in her current work as an interim co-executive director at the California Immigrant Policy Center, a role she has filled since early this May. Her job focuses on public policy work that straddles the intersections between immigrant rights and other issues such as food security, workers' protections, and access to health services.
She also continues her work as a community organizer and advocate, working with UCLA Law's Center on Immigration Law and Policy (CILP) and Immigrant Rights' Policy Clinic on Los Angeles' 'sanctuary city' policy, as well as other issues such as the LA Justice Fund and AB 617 (REP 4 All). Both the LA Justice Fund and AB 617 are aimed at securing public funding for robust, holistic legal services and deportation defense programs.
Growing up Asian American
Cheer was born in China and grew up in California's San Gabriel Valley, where the arrival of more Asian immigrants began to shift the area's demographics during the 1980s. As a kid, she had little guidance on how to navigate her racial identity in a rapidly changing country.
"At the time, there was no discussion of what an Asian American identity meant," Cheer says. "I didn't really have a way to formulate my own identity or even know what to sort of call myself ethnically, until I went to college and took my first Asian American studies class."
After graduating with a double major in ethnic studies and English literature and a minor in Asian American studies, Cheer went on to build a distinguished career in immigration advocacy. Among her most notable leadership roles, Cheer served as the managing attorney at the Catholic Legal Immigration Network's Los Angeles Detention Project and, more recently, as the director of movement building and strategic partnerships at the National Immigration Law Center. As an attorney, Cheer has represented hundreds of individual clients facing deportation, as well as represented detained immigrant youths. She has also performed outreach and education to ensure that the immigrant communities she serves are equipped with the tools they need to protect themselves by providing know-your-rights presentations.
Beyond her legal work, Cheer has made sure to help prepare the next generation of lawyers and advocates as a lecturer at UCLA Law from 2000 to 2001 and as a former advisor of the school's Immigrants' Rights Policy Clinic from 2017 to 2019. Her unwavering commitment to advancing justice for immigrants led to Cheer being honored as a recipient of UCLA Law's U. Serve L.A. Award this year.
"It was wonderful to be in community with professors and alumni, and just feeling like, oh, this is a space that really is supportive of community work and public interest work," Cheer says of the honor.
Despite her legal prowess, Cheer still contends with the invisible challenges that come with working in law, a sector that is still largely dominated by men and where Asian Americans remain underrepresented in high-ranking positions. She described her experience of being mistaken as an interpreter instead of a lawyer for her clients, an assumption that Cheer acknowledges is rooted in racial tropes about Asians, particularly when it comes to societal notions about authority.
Navigating her layered identities—as an activist and attorney, as an Asian American, and as a woman—is something she constantly grapples with at work. Nevertheless, Cheer has grown at ease with herself, learning to harness these uncomfortable moments to her advantage as a lawyer. "If people underestimate me, it wouldn't always be a bad thing because maybe they would say more than they should," she jokes.
Building support for the future
Asked about a memorable moment in her 20-plus year career, Cheer looks back to her time working with undocumented youth to push for a pathway toward legal citizenship. When Congress failed to pass the DREAM Act in 2011, advocates mobilized to appeal to then-President Barack Obama to provide legal protection for their community, which led to the creation of the Deferred Action for Childhood Arrivals program, known as DACA. The victory was an awe-inspiring moment, Cheer says, and gave her the fuel to continue her work.
"People were very emotional and crying and celebrating," Cheer recalls of the moment her colleagues heard the news of Obama's decision. "That definitely felt rewarding in terms of thinking about, here's an idea that many people dismissed…or thought was the wrong strategy. But it was really the [undocumented youth activists] who pushed through and made it happen."
Of course, working to advance a cause that is often politicized is not all roses. But the difficult moments are when Cheer feels the most fortunate, thanks to her network of UCLA Law colleagues and fellow alumni. What sets UCLA Law apart, Cheer says, is its abundance of resources that are available to students, from its clinics and internships to its strong alumni network.
Cheer says it is those connections formed early on that many people in her profession fall back on when the going gets tough.
"Whether it's [building relationships with] faculty or other students, it's really helpful during hard times…or the times when we have setbacks in our work. It's just really helpful to have a supportive network," Cheer says. Her biggest advice for students is to build on those valuable relationships during law school.
She continued: "I think it's really true that a lot of the people you meet in law school or in your early years as a lawyer are people who are, if not lifelong friends, at least, lifelong fellows."