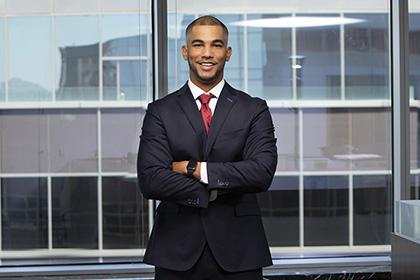 We are pleased to introduce a new feature: Alumni Spotlight. We'll talk to one of our amazing alums to hear what they do, how they make a difference, and what their UCLA Law experience means to them.
This month, we speak with Cody McDavis '19, who is in the business transactions practice of Jennings, Strouss & Salmon, based in McDavis's hometown of Phoenix, Arizona. McDavis, who played Division I basketball at the University of Northern Colorado, has also served as a lawyer and advocate for sexual and gender-based violence prevention and policy. In 2014, he directed a joint effort between the Obama Administration and the NCAA to engage with students across the nation in consent and bystander intervention. For that work, he received the Champion of Change award from the White House in 2016. While he was a student at UCLA Law, McDavis served as 1L class president, and after graduating in 2019, he became the youngest-ever member of the law school's board of advisors.
McDavis recently returned to the UCLA Law campus to assist with a pop-up clinic for the Ziffren Institute for Media, Entertainment, Technology, and Sports Law, helping current student-athletes understand their new rights and responsibilities under the NCAA's new name, image, and likeness rules.
How did your UCLA Law experience prepare you for the work you do now?
I'm a mergers and acquisitions attorney, working directly with clients and founders in selling their business, and everything that comes with that. I'm able to do this because I graduated from UCLA Law. I think I'm trusted with a lot of things that folks at other firms may not normally have an opportunity to tackle at this point in their career. The UCLA Law brand has done me well!
What do you find gratifying about your work?
Honestly, the depth of the relationships I form with my clients. When you're billing people, you better be adding value that they can see. I'm proud to provide a service instead of just providing an invoice.
What was the best part of your experience at UCLA Law?
The people! Professors Clyde Spillenger, Steve Derian, and Ann Carlson. I know I'm missing so many, but there are so many professors I loved that we'd be talking all day! Professor Carlson teaches property. I hated property. The concept of it made such little sense to me, but I think that's why Professor Carlson is so wonderful, because I still enjoyed going to class. I still wanted to put effort in because she pulled it out of me. Her attitude was, "If you don't feel like you owe it to yourself to own this material, then you owe it to me." She made all of us want to work hard even if, as in my case, one didn't initially respond to the material. What's amazing about UCLA Law is: It's not just the faculty. I had amazing relationships: Dean Schwartz, Dean Mnookin, Margo in external affairs — and you can't not mention Keith, the guard in the library. He's a legend of the law school. When you go to the library, the mental, the intellectual warfare you're about to have is hard, but Keith is such a light person to talk to. He's so kind and loving and caring and really made it a priority to just get to know you. That honestly made going to the library even better.
I chose UCLA Law because it had an environment that removed barriers and provided an environment where relationships are foundational. As silly it may sound, the number-one place for me was the courtyard — and the ping-pong table! Seriously. It was an environment where people could talk about life. I could ask you about your weekend or anything, before asking, "Hey, what did you think about this case? What did you think about this legal concept?" You could get comfortable with people as people first, and as law students or future lawyers second.
Speaking of the future, what does the future hold for you?
I want to own Arizona.
Can we can quote you on that?
Yes! I want to be the guy people think of when they think I need an attorney. And if I can't perform a legal service for you, I can point you to the person who can. I know this city, I know this state. It is where I was raised. I'm very proud of that. I think that's my future. Also, I would love—love—to build a UCLA Law contingency out here. Come out here and you'll able to have an impact because you're a UCLA Law alum. I will scream that out loud. If you went to UCLA Law, you're going to have an advantage over everyone else, just because you went to UCLA Law. I'm darn proud of that.