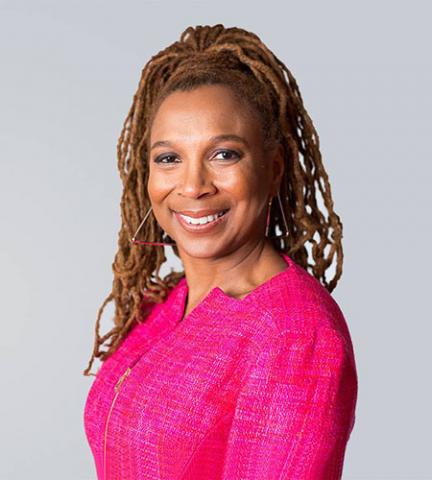 UCLA School of Law Distinguished Professor Kimberlé Crenshaw has been elected to the American Academy of Arts and Sciences, among the world's oldest and most esteemed learned societies of scholars, scientists, and artists.
Crenshaw was among 252 inductees who were elected on April 22. They included Oprah Winfrey, computer scientist Fei-Fei Li, and playwright Suzan-Lori Parks. In total, eight members of the UCLA faculty were honored with admission to the society this year: Crenshaw; music composer Terence Blanchard; political scientist Barbara Geddes; musicologist Elisabeth Le Guin; history and African American studies professor Kelly Lytle Hernandez, who directs the Ralph J. Bunche Center for African American Studies; political scientist Daniel Posner; geography professor Marilyn Raphael, who is the interim director of the UCLA Institute of the Environment and Sustainability; and ecology and evolutionary biology professor Victoria Sork.
Founded in 1780 by John Adams, John Hancock, and others, the academy's mission is to honor excellence and bring together "leaders from every field of human endeavor to examine new ideas, address issues of importance to the nation and the world, and work together 'to cultivate every art and science which may tend to advance the interest, honor, dignity, and happiness of a free, independent, and virtuous people.'"
Among the most widely cited scholars in the country, Crenshaw has been a preeminent leader in legal scholarship and critical race theory for more than three decades, having originated the concept of intersectionality in her landmark 1989 University of Chicago Legal Forum article, "Demarginalizing the Intersection of Race and Sex: A Black Feminist Critique of Antidiscrimination Doctrine, Feminist Theory and Antiracist Politics." A member of the UCLA Law faculty since 1986, she co-founded the Critical Race Studies program in 2000 and holds the Promise Institute Chair in Human Rights.
Crenshaw also serves as the Isidor and Seville Sulzbacher Professor of Law at Columbia Law School and is a co-founder and the executive director of the African American Policy Forum. She is renowned for developing and promoting the #SayHerName campaign opposing police brutality against Black women and hosts the podcast Intersectionality Matters! and the webinar series Under the Blacklight. She earned her B.A. from Cornell University, J.D. from Harvard Law School, and LL.M. from the University of Wisconsin Law School.
Election to the American Academy of Arts and Sciences is the most recent honor for Crenshaw. Late last year, she received the Ruth Bader Ginsburg Lifetime Achievement Award from the Association of American Law Schools' Section on Women in Legal Education. And on April 10, she accepted the Ruth Bader Ginsburg Award from the ERA Coalition.
J.D. Critical Race Studies