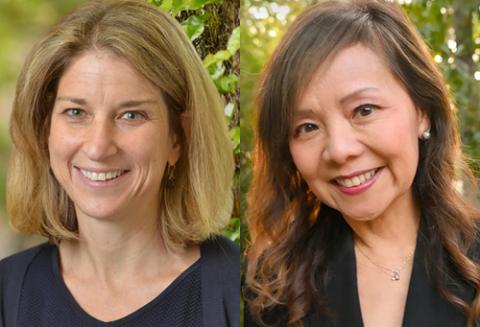 UCLA School of Law's Program on Philanthropy and Nonprofits has received a $100,000 gift from the education company ECMC Group to create the Maurice Salter Endowed Lecture in Nonprofits and Philanthropy. Through the lecture series, leading academic, government and industry experts will address critical issues in the nonprofit field and connect with students and practitioners in the sector.
The lecture series was developed in recognition of Maurice Salter, who earned his undergraduate degree and doctorate in education at UCLA and is a member of the boards of the UCLA Foundation and ECMC Group. Salter is a longtime supporter of student success initiatives, and the lecture series aims to support students and professionals working for nonprofits by providing insights into the challenges and opportunities unique to the sector while sharing best practices and information about solving real-world problems.
"I am honored that this program will help to prepare students and practitioners in the philanthropic and nonprofit arenas to better address real challenges and opportunities in order to better drive improvements in the lives of our neighbors," Salter said.
The Program on Philanthropy and Nonprofits launched in 2021 within UCLA Law's Lowell Milken Institute for Business Law and Policy. It builds on the vision of LMI founder and UCLA Law alumnus Lowell Milken '73, who has utilized his own legal background to inform his work as both a businessman and a philanthropist.
UCLA Law professor Jill Horwitz, a renowned authority in the law of nonprofits, is the program's inaugural faculty director. "We are grateful to the ECMC Group for establishing the Maurice Salter Endowed Lecture for the new Program on Philanthropy and Nonprofits," she said.
Rose Chan Loui, an experienced lawyer for nonprofits, is the program's first director. "The endowment will support the program in its goal of educating the law school's students about the power of philanthropy and the dramatic societal impact they can have through a career in the nonprofit world," she said.
The program was founded in response to emerging changes in the financial landscape. As baby boomers pass on, expectations are that they will transfer tens of trillions of dollars in wealth to younger generations, to well-established nonprofits or to family foundations. This massive financial shift is set to upend the processes of philanthropy and the governance of nonprofits. The rise of new ways of conducting philanthropy and changes in the role of nonprofits in society places this issue closer still to the heart of the national political, legal and social conversation.
Each Salter lecture will be recorded or broadcast live and will be available to interested parties through ECMC Group.
"As both a nonprofit and a leader in the postsecondary education space, we understand the importance of bringing a variety of voices to the table to educate and create positive change," said Dan Fisher, president and CEO of ECMC Group. "This program honors Dr. Salter's service to ECMC Group as a member of our board of directors for more than a decade and his commitment to helping the nonprofit sector's future leaders, who will be essential to bring about change and advance our nation's future."
J.D. Business Law & Policy