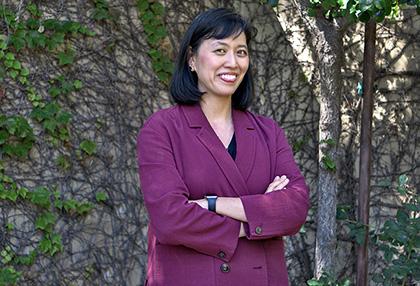 Grace Meng, who directs the Judge Rand Schrader Pro Bono Program at UCLA School of Law, has been selected to receive the Pro Bono Services Award from the Legal Services Corporation.
Nearly 50 years old, Legal Services Corporation is one of the nation's foremost organizations with a mission "to promote equal access to justice in our nation and to provide high quality civil legal assistance to low-income persons," and it is the "single largest funder of civil legal aid for low-income Americans in the nation." Members of its bipartisan board of directors are appointed by the President of the United States and confirmed by the U.S. Senate.
Meng, who has devoted her career to public interest law and advocacy, was nominated for the honor by members of the Legal Aid Foundation of Los Angeles, according to a letter that Legal Services Corporation president Ronald S. Flagg sent in announcing the award. Meng was cited for her "pivotal role in creating opportunities for UCLA law students to provide legal services to marginalized communities" and for her "leadership in launching the new [medical-legal partnership] between LAFLA and Planned Parenthood's Black Health Initiative."
Meng will be honored and receive her award at a reception in Los Angeles on October 16.
With the launch of the Schrader Pro Bono Program in 2021, Meng joined UCLA Law from Human Rights Watch, where she was associate director in the U.S. program, including work as a researcher, advocate and writer. She is a former immigration law practitioner, and her work has focused on the rights of immigrants in the United States. Meng earned her undergraduate and law degrees from Yale University.