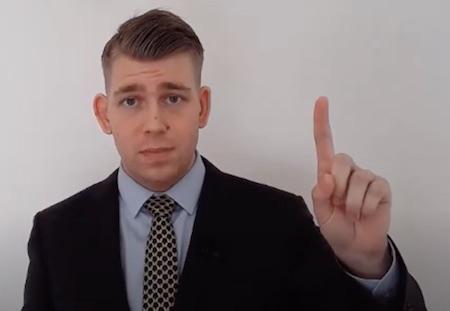 In its first competition since earning the No. 1 national ranking, UCLA School of Law's A. Barry Cappello Trial Team on Oct. 4 won the Summit Cup, a trial advocacy competition hosted by University of Denver Sturm College of Law that is considered among the most prestigious and difficult trial competitions in the country.
The UCLA Law team included students Jamie Butts '22, Jack Eyers '21, Enrico Trevisani '22 and Lillian Tsao '22. They were coached by Amanda Mundell, an appellate attorney for the U.S. Department of Justice, and Justin Bernstein, director of UCLA Law's A. Barry Cappello Program in Trial Advocacy. 
The Summit Cup field is limited to 20 of the top trial advocacy law schools, and teams have only five weeks to prepare. They are scored by a combination of practicing lawyers and lay jurors. 
This year's competition took place virtually on Zoom and featured a case that was loosely based on a storyline from the hit Netflix's series Tiger King. After the owner of a big-cat sanctuary disappeared, his daughter filed a wrongful death lawsuit against the owner's wife. Representing the plaintiff, UCLA Law's team argued that the defendant killed her husband to gain a $10 million inheritance. Representing the defendant, UCLA Law's team argued that the victim had simply died in a plane crash.
During the preliminary rounds, the Cappello Trial Team earned wins over four schools known for their successful trial programs: University of Washington School of Law, Northwestern Pritzker School of Law, UIC John Marshall Law School and Loyola Law School, Los Angeles. In the final round (video available here), UCLA Law defeated a team from Drexel University Thomas R. Kline School of Law. The UCLA Law team was the only team that finished the tournament undefeated.
For the second consecutive year, UCLA Law won the Summit Cup Award for Professionalism, given to the team that best displays respect for judges, witnesses and opponents. In a field of approximately 80 law students, Jack Eyers won the tournament's award for Outstanding Advocate. Now a third-year law student, Eyers continued a winning streak that started at the very beginning of his 2L year.
"The University of Denver hosted a great event, and we especially appreciate that they livestreamed all trials on YouTube," Bernstein says. "This allowed classmates, friends and family to watch the trials and cheer us on – and it allowed my mom to text me all the things she thinks we should have done differently."