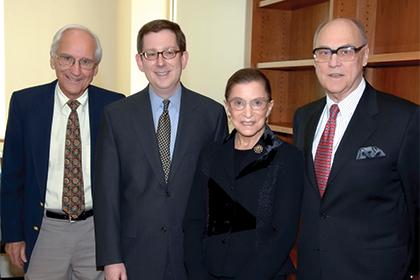 Supreme Court Justice Ruth Bader Ginsburg, who died on Sept. 18 at age 87, is celebrated for her remarkable career as a lawyer and judge who was dedicated to fairness and equality. A trailblazing advocate for women's rights, she was appointed to the U.S. Court of Appeals for the D.C. Circuit in 1980. In 1993, President Clinton appointed her to become the second woman ever to sit on the Supreme Court.
Members of the UCLA School of Law family fondly remember Justice Ginsburg for her leadership and impact on the law, as well as for the many ways in which she touched our community. Her 2005 visit to the law school was met with fanfare, including a Q&A event with 300 students and meetings with faculty members and other friends of the school. (Photos from that visit accompany this story and are in the gallery below.)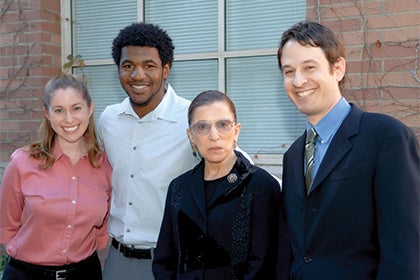 Another generation of UCLA Law students drew inspiration from Justice Ginsburg during a special event at which the 2018 documentary about her life, RBG, was screened on campus. And she delivered a poignant tribute to her longtime friend Professor Kenneth Karst at the 2019 memorial service that UCLA Law held in his honor.
To celebrate her life, UCLA Law hosted a special webinar remembrance in which Ninth Circuit Judges Kim McLane Wardlaw '79 and Paul Watford '94 (who clerked for Justice Ginsburg), Professor Jon Michaels, Williams Institute Executive Director Jocelyn Samuels and Dean Jennifer Mnookin discussed her unparallelled legacy.
"The courts are a reactive institution. We don't make the cases that come to us. And if there isn't a public and if there isn't a bar that is going to bring these cases to us, we would never have them," she told UCLA Law students in 2005. "But as long as there are people who care and lawyers ready to represent the people who are the victims of unconstitutional behavior, we will get those cases eventually.... If you really care, don't start with the courts, start with getting others, your fellow citizens, to appreciate what our nation's highest values are."