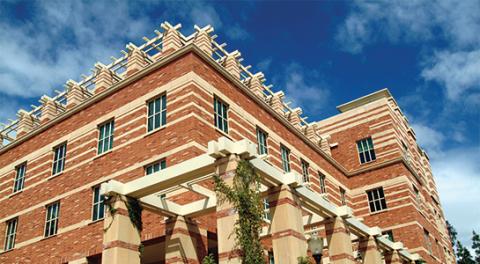 Alumni and friends of UCLA School of Law raised $32.7 million for the school in 2018-19, the largest single-year sum in the school's 70-year history. This fundraising total topped UCLA Law's previous annual record by nearly $2 million.
The generous donations support a wide variety of activities throughout the law school, including student scholarships, endowed faculty chairs and development of new curricular and educational opportunities.
In 2018-19, the law school received gifts from a total of 3,568 donors. Seventy percent of donors are UCLA Law alumni, and the others are friends of the school, dedicated contributors to the university, UCLA Law faculty and students. UCLA Law is proud to have a higher percentage of alumni who give back than any other UCLA professional school or part of the university.
"This is an incredible show of generosity, and it has a huge impact for UCLA Law," says Dean Jennifer Mnookin. "As the youngest law school in the top 20 and one with a modest endowment compared to our more established peers, this support is especially important for us. I'm delighted by our overall numbers, but I'm equally grateful that so many of our alums and friends are stepping up to make contributions. Every gift, large and small, is an investment in our students and our future."
Major gifts in 2018-19 include:
$5.5 million from the Mitchell Trusts and Ken Ziffren '65, with additional funds from the Chancellor's Centennial Scholarship Match, to launch new scholarships and initiatives at UCLA Law's Ziffren Institute for Media, Entertainment, Technology and Sports Law.
$2.6 million from Ralph Shapiro '58 and Shirley Shapiro to support endowed faculty chairs; to contribute to the Emmett Foundation's $2.5 million matching gift for the Emmett Institute on Climate Change and the Environment; and to promote research and scholarship by Emmett Institute faculty.
$2 million to establish the Eric M. Zolt Endowed Chair in Tax Law, named for longtime faculty member and tax scholar Eric Zolt. More than 30 donors including alumni, faculty, friends of the school and members of the Zolt family contributed to the chair.
$2 million to establish the Rachel F. Moran Endowed Chair, in honor of Dean Emerita Rachel Moran. Nearly two dozen alumni, faculty and others, led by George Halverson '62 and Brandy Halverson, came together to make this gift.
$1 million from William Kahane '74 and Elizabeth Kahane to establish new courses, events and training in corporate governance through the Lowell Milken Institute for Business Law and Policy.
A gift of nearly $670,000, matched by the Chancellor's Centennial Scholarship Match program, from Karen Silberman and Jeff Silberman '82 to establish the endowed Silberman Family Achievement Scholarship in support of academically talented students who have overcome exceptional hurdles to attend UCLA Law.
In 2018-19, UCLA Law also surpassed its goal of raising $150 million during the Centennial Campaign for UCLA, the $4.2 billion effort to bolster the university as it enters its second century. As of June 2019, the end of the 2018-19 fiscal year, UCLA Law had raised $160 million during the campaign. The Centennial Campaign continues through December 2019.