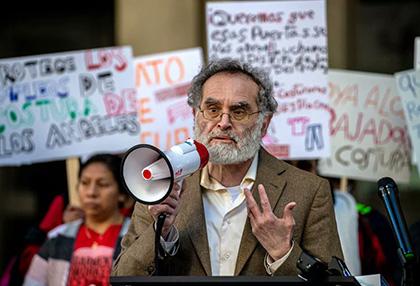 The annual gala of the Mexican American Legal Defense and Education Fund is a highlight on the calendar of public interest professionals nationwide, and this year's event will shine a spotlight on the outstanding contributions of one member of the UCLA School of Law faculty.
Victor Narro, a renowned teacher of immigrant rights and labor activist, has earned MALDEF's Excellence in Community Service Award and will be one of three honorees at the organization's celebration on November 9.
MALDEF is widely admired as the most prominent and impactful organization that supports Latino legal civil rights in the country. Founded in 1968 and headquartered in Los Angeles, with regional offices around the nation, its mission is to "protect and defend the rights of all Latinos living in the United States and the constitutional rights of all Americans."
Narro is on the core faculty of the Public Interest Law and Policy program at UCLA Law. As project director for the UCLA Labor Center, he provides research, strategic planning and campaign support for unions, worker centers and other community partners, as well as internship opportunities for UCLA students. He is also on the core faculty of the UCLA Labor Studies program.
A prolific author and frequent commentator in the media, he is a nationally known expert on the workplace rights of immigrant workers and has been on the front lines of many efforts to improve labor conditions in Southern California and elsewhere. His extensive experience in the field includes leadership positions with Sweatshop Watch, the Coalition for Humane Immigrant Rights of Los Angeles (CHIRLA) and MALDEF. He was key in the creation of the National Day Laborer Organizing Network, Wage Justice Center, Garment Worker Center, Clean Carwash Campaign and other organizations. And he has been appointed to city commissions by several Los Angeles mayors.
Most recently, Mayor Karen Bass appointed Narro to serve on the Los Angeles Board of Airport Commissioners.
"This recognition from MALDEF is my activist life in Los Angeles coming back full circle: It was 30 years ago that I moved to this city and began my work at MALDEF's Los Angeles regional office," Narro says. "It is a reminder of why we must always see one another as an activist family, where we always prioritize our interconnectedness as we engage in the work for justice."