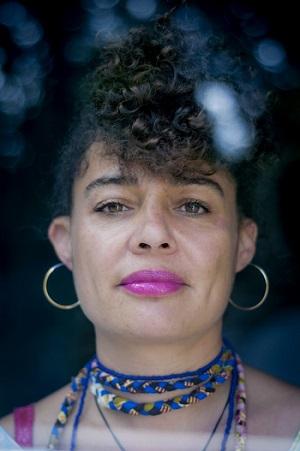 Celebrated British poet Karen McCarthy Woolf, recently named a Fulbright All Disciplines Scholar, is settling in for a residency at UCLA, bringing her poet's eye to the work of students and faculty at UCLA School of Law's Promise Institute for Human Rights. Through a collaboration with UCLA's English department, McCarthy Woolf will spend the year as poet-in-residence with the Promise Institute. She will "witness" the work of students and faculty as they seek new ways of addressing human rights atrocities and creating accountability for perpetrators. "Karen looks at some of the world's most pressing problems through an uncommon lens, illuminating new avenues of progress in human rights," says Kate Mackintosh, executive director of the Promise Institute. "We are thrilled to serve as her home this year and to collaborate with her on this innovative and exciting project."
Here, McCarthy Woolf discusses her journey to UCLA Law and the passions that drive her work. Read her poem "Outside" below.
Why is a poet well suited to participate in or drive a conversation about human rights and the law?
Poetry seeks to delve deep under the surface, to get to the emotional heart of the situations, stories and environments it encounters and describes. It's also a place people turn to at times of grief and trauma, as well as celebration: an art form that has the capacity to articulate and transform both its audiences and makers. Think of Joy Harjo, the new United States Poet Laureate, and the first native/indigenous writer to hold that position. Her work is deeply embedded in a tradition of what Carolyn Forché termed a "poetry of witness," where literature holds and disseminates many different strands of collective resistance and history. It is my hope that by encouraging mutual and transatlantic flows of ideas and communication, we might discover new ways of capturing both intimate and universal experience, and that poetry might act as a complementary knowledge stream for human rights law as it adapts to new and complex challenges.
This residency stems from your recent Fulbright award to work on your project "Alt-Shift." What is this project and why is the Promise Institute the appropriate place for you to work on it?
The Fulbright ethos is one which looks to enhance international conversation between America and other countries. This creative writing research project seeks to spark conversation around poetry and political activism between British and American contemporary poets and human rights scholars and lawyers. In an era of algorithmic manipulation and political compromise, how do poets and thinkers on either side of the Atlantic define their version of a safe space? How is it configured? Who and what lies within it? How is it breached and/or secured? I'll be writing poems and lyric essays around these subjects, and an important part of what I plan to do is to make my research trail open as a resource for others by capturing the interviews and conversations that take place along the way and making these available online. It's a small drop in a big ocean, but the idea behind that title "Alt-Shift" is one which acknowledges how poetry might feed into a larger data stream and "shift" the way we feel and think.
Do you consider yourself foremost a poet? Scholar? Activist?
I am all of these things through my writing, as someone who uses words as their art material. I love collaborative work, and have made poems with musicians, choreographers and filmmakers. Poetry is a communicative art and also one that has the capacity to disrupt through its relationship with grammar, music and form. I was a writer in residence at the National Maritime Museum in London in 2016, responding to an exhibit on Mediterranean migration. Britain was about to hold the referendum on Brexit and the language the media was using to describe refugees was abhorrent. So I did an "audit" of all the stories around migration on one day, which resulted in the poem "Tatler's People Who Really Matter" which takes the adjectives and adverbs from a magazine "rich list" and transposes them to tell a migratory narrative. At the heart of that is the question, what would it sound like if we used the same language to write about refugees that the media reserves for the "super rich"? That's something I think law and poetry have in common: a forensic relationship with the details of language.
Are there particular themes in human rights that you prefer to focus on in your work?
I've always been interested in social justice: Growing up in London as the daughter of a single parent, I remember attending candlelit vigils outside South Africa House in Trafalgar Square with my mum and sisters, protesting Nelson Mandela's incarceration under apartheid. Feminism was an important part of how I forged my identity as a young woman. My work is also deeply connected to nature and the environment, and I think another key question today — as [environmental activist] Greta Thunberg has expressed so eloquently in recent months — is to think about how protecting all organic life as part of an interconnected ecology is also a human right, globally, for people now and in the future.
What are you looking forward to doing at UCLA or in Los Angeles?
Coming from a large and diverse city like London, I feel at home in Los Angeles, despite its obvious differences in terms of climate and terrain. There are so many communities from around the world who've settled here and made the place their own. I want to meet lots of different people in a variety of neighborhoods, to experience the cuisine and music — which is an ongoing passion in my life and work. Swimming in the sea, often! That's a must — which inevitably, will lead me to consider the economies that depend on it and the impacts those uses and dependencies incur. You can't really do one without the other. Those things aside, it's an honor to be here at UCLA, to have access to its faculties and students, as a place where new thinking can take seed and thrive.
---
"Outside"
under the arcade
and the floor-length glass shop front:
a green pop-up dome
flanked by a Burberry
suitcase and a sleeping-bag
a makeshift shelter
for Sai from Stratford
with time to invest
in a four-day queue — he's first
in line for an iPhone 6s
no-one moves him on
or threatens arrest
as it's not about where
but why you pitch your tent