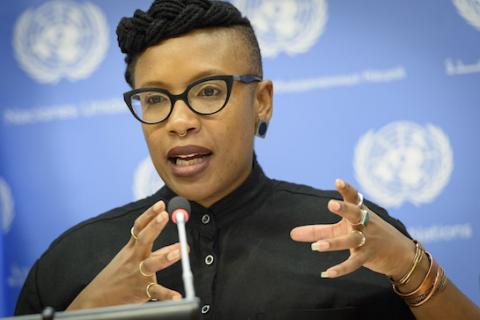 UCLA School of Law Professor E. Tendayi Achiume has earned UCLA's Distinguished Teaching Award, the university's highest honor for excellence in the classroom. Achiume was also named the recipient of the Eby Award for the Art of Teaching for 2019-20.
The faculty director of UCLA Law's Promise Institute for Human Rights and a driving force behind the school's renowned work in international human rights, critical race studies and public interest law, Achiume is one of six professors from across UCLA to receive the Distinguished Teaching Award this year.
The UCLA Academic Senate has presented the award since 1961 "to increase awareness of UCLA's leadership in teaching and public service by honoring individuals who bring respect and admiration to teaching, at UCLA." In addition to the honor for members of the university's tenure-track faculty, awards also go to leading lecturers and teaching assistants.
Achiume is the 31st member of the law school community to earn this accolade.
"It's difficult to imagine a higher honor than this award," says Achiume, who since 2017 has also served as the United Nations' Special Rapporteur on Contemporary Forms of Racism, Racial Discrimination, Xenophobia and Related Intolerance. She is the first woman to hold that position, and she frequently travels the globe to observe situations of severe injustice and draft reports on inequality, hate speech and other matters of grave concern, often with key input from her students.
"Teaching UCLA Law students is a privilege — they are brilliant, tireless and courageous in their commitment to using law to make our societies more equitable and just," she says. "I'm truly moved by this recognition of the work I try to do to help them reach their full potential."
Achiume earned her B.A. and J.D. from Yale University and joined UCLA Law in 2014. She teaches international human rights law, property and the innovative International Human Rights Clinic, through which students collaborate with local and international human rights organizations on policy, litigation and advocacy projects.
Among her many endeavors for the law school, she has taken teams of students to U.N. summits in New York and Switzerland, where they gained an inside view into international human rights work at the highest level. Closer to home, Achiume oversaw an initiative by students and faculty members to produce the 2018 report "Women Beyond Bars: Reentry and Human Rights," which aimed to improve reentry to civilian life for incarcerated women.
In nominating Achiume for the Distinguished Teaching Award, several of her current and former students wrote about her approach to international human rights and how she has inspired them to serve as agents of change. "The mentorship and support she has provided me goes far beyond the confines of the classroom," one wrote. "Professor Achiume is someone I have turned to countless times for support in furthering my legal career."