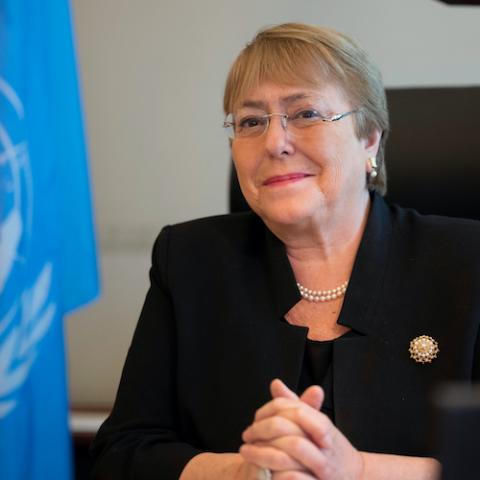 UCLA School of Law joined eight law schools in sponsoring a national address to law students by Michelle Bachelet, the United Nations High Commissioner for Human Rights and former president of Chile, on March 31.
More than 435 attendees – including about 80 from UCLA Law – participated in the event, titled "The Human Rights Challenge." Kate Mackintosh, executive director of the Promise Institute for Human Rights at UCLA Law, envisioned the event when she joined the institute in 2018. Her aim was to see a network of universities cooperating on larger initiatives with greater impact.
"I was keen to connect with our peers across the nation and to create a space where we could cross-pollinate ideas, innovations, advocacy, and resources for the next generation of human rights lawyers," Mackintosh says. "It led to this network, and together we were able to engage High Commissioner Bachelet in conversation for our students."
The network includes human rights programs in the law schools at American University, Columbia University, Georgetown University, Stanford University, UC Berkeley, the University of Minnesota, Rutgers University, and Yale University.
Bachelet is a physician who served as Chile's health minister and defense minister before becoming that nation's first woman president in 2006. As president, she implemented policies and programs to expand equality, advocating for the rights of women, children, same sex couples, and indigenous peoples, and promoting economic justice.
During her speech to students, she reflected on many threats to human rights around the world and how the next wave of rights defenders can be successful. Regarding the impact of the COVID-19 pandemic, she spoke about "inequalities and discrimination which the virus has made apparent" and how they do not just harm individuals.
"They create shock waves which ripple across the whole of society," she said. "To recover from this damage, the root causes must be addressed … [as] a matter of justice … and also [as] a way to super charge our recovery."
For Mackintosh, the talk was an important opportunity for UCLA Law students. "The chance to engage with a global leader in human rights is invaluable for emerging human rights lawyers," she says. "They get to hear firsthand what the work looks like at the U.N. and international level, and they can use her insights to frame their own career paths in areas most in need of legal buttressing."
J.D. International and Comparative Law