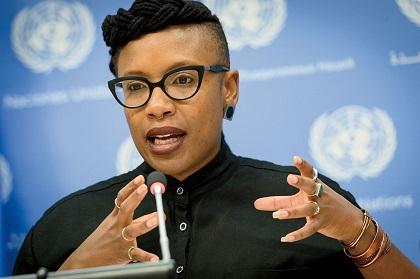 UCLA School of Law professor E. Tendayi Achiume has received a faculty chair appointment that recognizes her global leadership in scholarship and advocacy for human rights and the dignity of migrants and refugees around the world. She is now the inaugural holder of the Alicia Miñana Chair in Law, which was designed to support a faculty member preferably with interests at the intersection of human rights and immigration or migration law.
The term chair was established through a gift made by UCLA Law alumna Alicia Miñana '87 and her husband, Rob Lovelace. Miñana is an active member of Human Rights Watch and several other prominent educational and community-based organizations. In 2020, she and Lovelace founded the law school's Center for Immigration Law and Policy. Miñana's deep commitment to UCLA includes service in several university initiatives, including her work as chair of the UCLA Law Board of Advisors.
Faculty chairs acknowledge the distinction of the law school's outstanding professors and are made possible by the incredible generosity of UCLA Law's alumni and friends. UCLA Law has 70 full-time faculty members and 36 endowed chairs.
"Professor Achiume's work as a human rights teacher, scholar, and advocate is quite extraordinary," says UCLA Law Dean Jennifer L. Mnookin. "I'm so pleased to see her incredible impact acknowledged through this chair, and I am tremendously grateful to Alicia Miñana, one of our most dedicated alums, and Rob Lovelace for making it possible."
Achiume is a driving force behind the school's renowned work in international human rights, critical race studies, and public interest law. She is a core faculty member of UCLA Law's Promise Institute for Human Rights, Critical Race Studies program, and David J. Epstein Program in Public Interest Law and Policy. She has also served since 2017 as the United Nations Special Rapporteur on Contemporary Forms of Racism, Racial Discrimination, Xenophobia and Related Intolerance. She is the first woman and first person from southern Africa to hold that position.
Achiume has been consistently recognized for her positive impact in education and advocacy. In 2020, she won UCLA's Distinguished Teaching Award, the university's highest honor for excellence in the classroom, as well as the Eby Award for the Art of Teaching. Earlier this year, she testified before the U.S. House Judiciary Subcommittee on the Constitution, Civil Rights, and Civil Liberties in a virtual hearing on slavery reparations.