The Emmett Institute is the central environmental law hub at UCLA. Since 2008, the Emmett Institute has grown to become one of the top environmental law programs in the country. Our faculty members are renowned for their public service, teaching excellence, and scholarship in state, federal, and international law. Located in Los Angeles, a diverse city facing unique environmental justice and climate change challenges, the Emmett Institute provides J.D., LL.M. and M.S. students unmatched opportunities for mentoring, career placement, and experiential learning. Through groundbreaking research, public interest initiatives, and impactful legal clinics, the Emmett Institute helps shape climate change and environmental law and policy in California, the United States, and jurisdictions around the world. Our alumni are environmental leaders across all sectors doing critical work at government agencies from Sacramento to Washington D.C. and beyond, as well as law firms, nonprofits, corporations, law schools and universities around the globe. Tapping this network, the Emmett Institute regularly convenes public and private events to drive real-world law and policy change.
---
Emmett Institute's 2023 Annual Report
---
Knowledge Into Action
The Emmett Institute is home to 10 core faculty members as well as a team of law fellows and staff who manage a wide-ranging slate of projects that address urgent environmental challenges and provide hands-on training to future lawyers.

Our faculty and students draw on the resources of the country's premier public university to develop solutions to complex problems like climate overshoot, air quality, extreme heat, drought, coastal erosion, deforestation, and decreased biodiversity. Read more about all our projects.
Student Opportunities ​​​​​​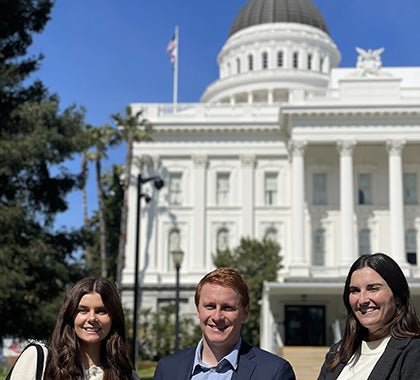 UCLA Law offers J.D., LL.M., and M.S. students one of the country's most extensive environmental course offerings, covering a range of state, federal, and international law issues. The Emmett Institute provides students with scholarship funding, experiential learning, and connections to an unparalleled network of alumni in leadership positions across the country. Through one-on-one mentoring, our faculty helps students find meaningful internships and early-career positions in government, nonprofits, and private practice. The Emmett Institute also gives students unique opportunities to work at the forefront of climate and environmental advocacy in California and around the world. As part of our law clinic, students advocate on behalf of real clients. In our legislation clinic, students help make California law. Working with our staff, students also gain real-world skills for negotiations, public speaking, engaging with the press and utilizing storytelling tools as part of their advocacy.
---
Media, Events, and Resources

---
Publications

---