---
Course of Study
The Master of Legal Studies program has a balance of foundational training on "thinking like a lawyer" and specialized courses tailored to the student's interest and career focus. As such, the program is designed to be completed in three phases (as outlined below). The program can be completed in 9 months with full-time study or 2-4 years with part-time study. A minimum of 26 units is required to complete the degree, but students wishing to do more may take law classes up to four years, with the optional units 27-32 at no additional tuition charge ($13,968 value).
What I like about the UCLA program is the flexibility to work around your schedule juggling the core classes with the electives. The program and structure offers a soft landing into the field of law.
Josh Brackett (MLS '22)
Managing Director
Right Size Media
3 Phases of the M.L.S.
 
 
 

PHASE 1
M.L.S. Core Curriculum

These core courses are designed exclusively for M.L.S. students. They are taught on Tuesdays and Thursdays on campus starting at 6:30 pm.

1. Introduction to American Law
2. Private Law: Property and Contract
3. Public Law: Constitutional and Statutory Analysis
4. Legal Communication and Analysis
5. Business Law for Non-Lawyers OR The American Dispute Resolution System

PHASE 2
M.L.S. Elective Courses

Students may elect to take either JD courses during the day and/or classes in the evenings designed specifically for MLS students.

Specializations offered:
1. Business Law
2. Employment & Human Resources Law
3. Entertainment & Media Law
4. Environmental Law
5. Government & National Security Law
6. Health Law & Policy
7. Law & Technology
8. Public Interest Law
9. General Studies

PHASE 3
Capstone

The capstone allows students to deeply engage with issues relevant to their career focus or intellectual interest. There are two ways to satisfy this requirement.

1. Capstone Seminar
This course guides the student through a project applying the skills and knowledge gained in the program to a "real world" scenario. This is flexible, but could include a project at work or a project completed with professor guidance.
2. Seminar course
There are several paper-based courses which satisfy the capstone requirement.
Time Investment
The program can be completed in 9 months with full-time study or 2-4 years with part-time study.  Check out the options below to see how it breaks down.
Part-Time
The Part-Time option is ideal for professionals who are working full-time.
Click or hover over the images below for more details.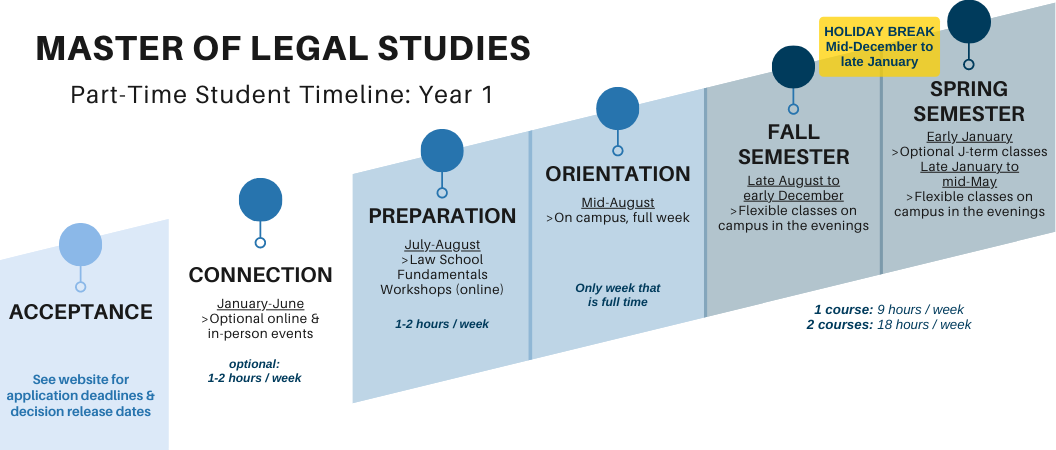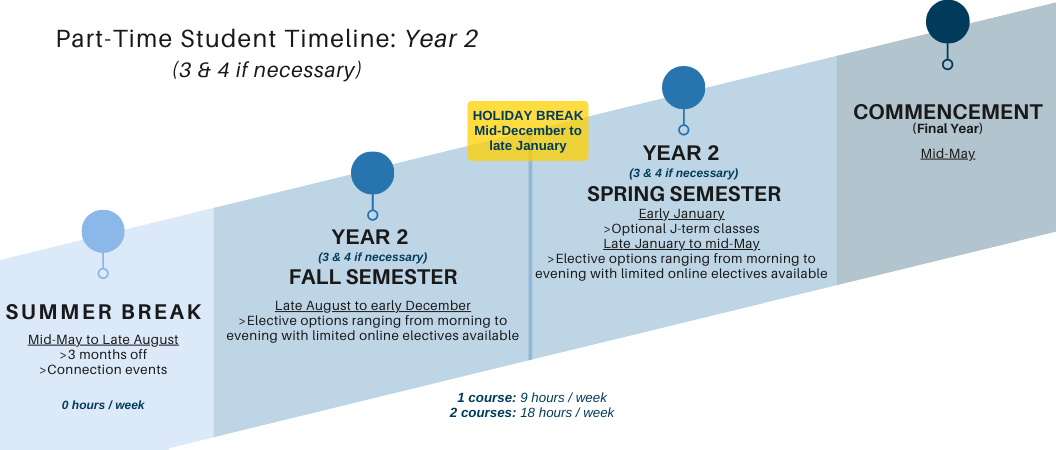 Full-Time
The Full-Time option is ideal for:
Recent graduates;
International students on F-1 visas;  
Entry-level professionals, those with 2 or less years of professional experience; or  
Fully-employed professionals with the flexibility to take a sabbatical from work.
Click or hover over the image below for more details.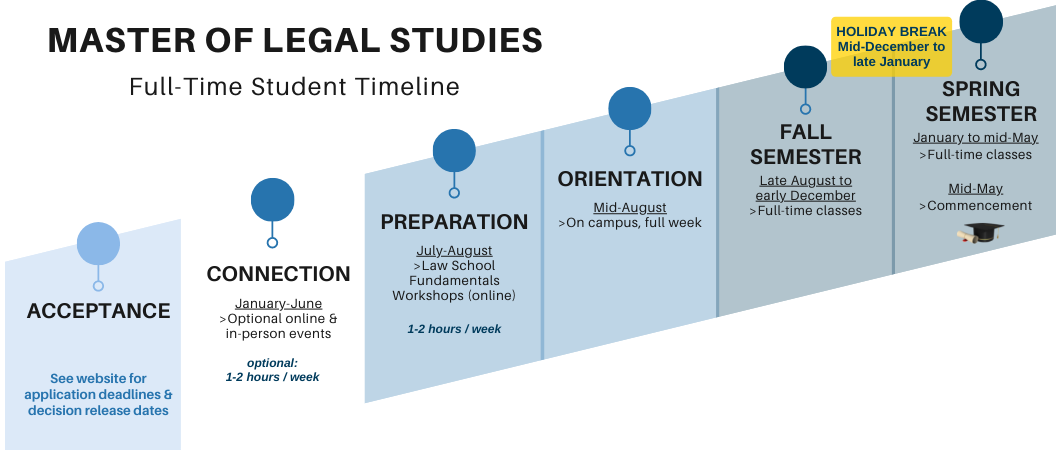 The ability to be able to go to classes in the evening and earn this degree was really appealing to me. Returning to school was an adjustment, but I had to make little conscious decisions to manage my time well. As I got into the groove and routine of it, it became second nature.
Dave Holtkamp (MLS '21)
Human Resources Business Partner
The Walt Disney Company